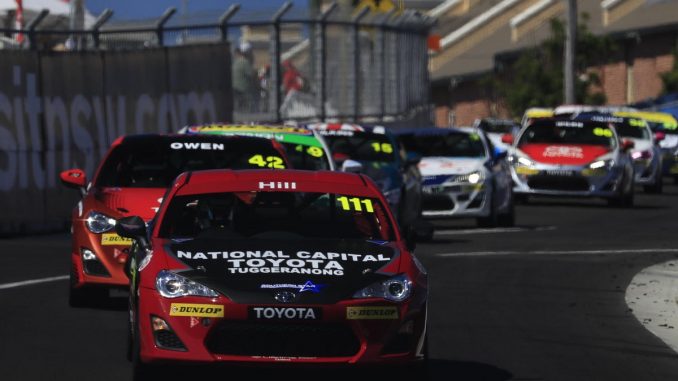 Cameron Hill has topped off his 21st birthday with the best present he could ask for – a clean sweep of all three Toyota 86 Racing Series races at Newcastle.
Finishing nearly nine seconds ahead of invited driver Steve Owen, Hill cruised to his eighth victory for 2017 – more race wins than any other driver for the season.
The final win also confirmed overall second place in the series for Hill.
"What a perfect weekend, I'm stoked to get the clean sweep," said Hill after the race.
"I loved the challenge of having to attack the new track, and to see the crowds around in Newcastle, it was thrilling."
Invited driver Steve Owen said he was happy with his results for the weekend. "Three podium finishes from three races. I've had a fantastic time racing these great little cars," he said.
Sunday brought out the best for Sieders Racing's Aaron Borg, who achieved his best result ever with third place.
"It was great to get a podium finish in the last race of the year," Borg said.
"We've had some good pace this year, we're pleased to see it end on the podium, and it's the best reward for the team for all of their hard work."
The tight street circuit continued to be challenging for a number of the drivers, and skirmishes for places saw damage to more than eight cars that did not finish the race.
Among them was series winner Jimmy Vernon, the first time that he hasn't been on the podium in a race in the 2017 season.
Dylan Thomas, who consistently finished within the top 10 all weekend, secured enough points to secure an overall third in the series.
Invited driver Jonathon Webb finished the last race in the top five. "There have been a lot of ups and downs this weekend – but it's been awesome. I've had a lot of fun," he said.
The Toyota 86 Racing Series will expand in 2018, from five to six races, including visiting South Australia for the first time.
The 2018 season will kick off in April at Phillip Island in Victoria.