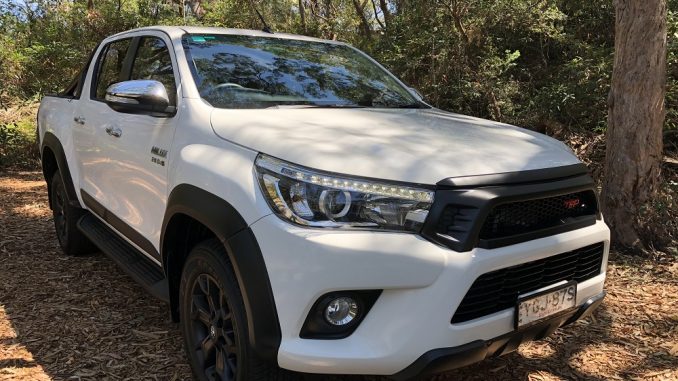 Aussies love dual-cab utes and they particularly like the 'souped-up' varieties that just about every manufacturer brings to the market.
One of the latest additions to the mix is this TRD-enhanced version of the Toyota HiLux SR5.
What I find really interesting about this Toyota 'accessories' pack is that it feels a bit more integrated than some of the other comparable packs and special edition vehicles available.
It just seems to work and doesn't feel like an afterthought.
Available on the SR5 double-cab, the pack adds features like the running boards, a TRD grille and the distinctive skid plate.
Beyond the pack, and just taking a look at the current edition Toyota HiLux, I have to say that I'm not at all surprised that this vehicle remains Australia's best-selling vehicle.
Sure, a lot of the HiLux success comes from mammoth fleet sales, but its still as good as any of the other dual-cab 4x4s on the market.
It does everything competently, without really excelling, and yet it is still a vehicle that makes you feel good when you drive it.
For example, the turning circle is rather large, the ride is only so-so, it isn't the quietest or the most refined vehicle on the roads.
It isn't particularly frugal either, expect to use about 10.5L/100km in the city.
While I have spoken before about how the concept of a dual-cab ute is often much better than the lived experienced, especially as a family car.
For example, there really isn't much rear legroom, its a pain to climb in and out of, and you'll probably get sick of putting your groceries in the back seat.
But those things relate to every dual-cab, not just the HiLux.
Where the Toyota offering picks up brownie points is in its general design and execution.
For example, the dashboard layout is just about perfect – everything is where it should be and is easy to operate.
There's excellent cabin storage areas, easy to read gauges, an attractive driver info screen and a good seating position (especially with the electric drivers seat).
Visibility from that drivers seat is also very good, and probably better than some SUVs getting around.
Additions like digital radio and sat-nav make the Toyota ute that bit more user friendly and enjoyable.
I would say however that Toyota could place a little more padding in the centre armrest, I'm also not a huge fan of the current Toyota infotainment system, no, not the software – the control buttons that surround the screen.
The lack of any button shape or feel means you can't really make a change on the go with your eyes still on the road.
And I also observed some strong sun reflection off the silver strip on the dashboard and around the transmission selector that bounced straight onto my face.
Facts and Figures: 2017 Toyota HiLux SR5 TRD
Engine: 2.8 litre turbo-diesel producing 130kW and 420Nm(manual)/450Nm(auto)
Transmission: Six-speed auto or six-speed manual
Safety: Five stars
Warranty: 3yrs/100,000km
Origin: Thailand
Price: SR5 TRD from $58,990 drive away
2017 Toyota HiLux TRD
Summary
The Toyota HiLux remains a difficult beast to dislike and as the competition has found out – just as difficult to top.
It isn't perfect, but it is a good balance between rough and tough and nicely finished off and for that Toyota deserves a clap.
The TRD enhancements give an already top-shelf ute some more character and as I said at the top they are an enhancement, not a late scramble to inject personality.