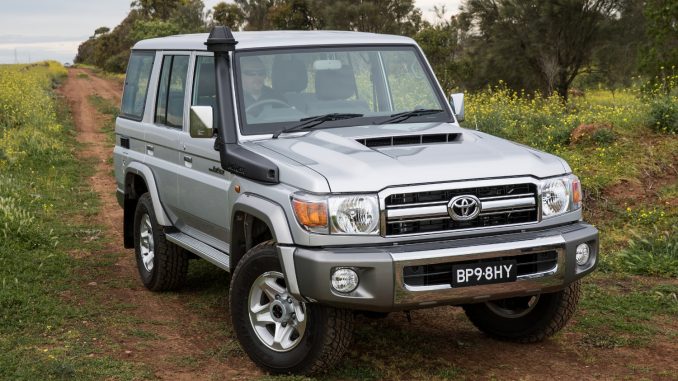 The Toyota LandCruiser 76 Wagon GXL reigns supreme amongst rugged true 4WD wagons. It looks exactly like it should for what it is designed for.
A utilitarian workhorse that would last forever.
It has a bold grill, snorkel, high roofline and sides. The front has single lights, lower fog lights and bold wheel arches.
The LC76 GXL Wagon was significantly upgraded in 2016 with safety electronics including: vehicle stability control, active traction control, hill-start assist control, brake assist, electronic brake-force distribution and Cruise control.
Inside the LC 76 Wagon GXL is more spacious than expected however while it has made concessions to the 21st century it still is basic compared to most other wagons.
There is enough leg room for my 190cm tall frame, plenty of headroom, even with a hat on and while it is a little cramped changing gears the height adjustable steering wheel allows more flexibility.
Rear seats are adequate again with plenty of head and shoulder room and adequate knee and leg room.
The boot is cavernous and the barn rear doors allow ease of use, but take some getting used to.
I prefer the two stage system of the 200 series where you can use the fold down bottom section as a table.
The dash looks like my old HJ 60 series Sahara Landcruiser. The seat is supportive but could do with some lumbar support.
The steering wheel actually feels pretty good in the hands and allows good feedback. It is however totally devoid of any controls.
Apart from some missing features the LC 76 reminds you that you really don't need some of the fancy things that are in vehicles as the older versions still work.
The addition of electric windows is a bonus and the much needed cruise control means that I won't have to drive with a stick on the accelerator in future on long trips.
However there are some things that are needed.
Additional air bags that have been included in the SCC Ute and PLEASE, PLEASE electrically adjustable external rear mirrors. One benefit of the upright vehicle style is excellent visibility all around.
During its 30-year life, the 70 Series (collectively) has been progressively upgraded yet continues with the attributes that have made it such a versatile off-road vehicle.
Tough box-section chassis, simple part-time 4WD system with two-speed transfer, lockable hubs (now auto), excellent low-range gearing, long-range fuel tanks and excellent ground clearance.
These features, combined with ample approach, ramp-over and departure angles, enable the 76 Series vehicles to traverse rugged roads and obstacles that are beyond the capabilities of other vehicles.
Powering the LandCruiser 76 Wagon GXL is a Euro 5 32-valve 4.5-litre V8 turbo-diesel engine with common-rail direct injection and an intercooler.
Driving through a 5 speed manual, it delivers 151kW of power at 3400rpm and peak torque of 430Nm from just 1200rpm all the way to 3200rpm – a particularly flat torque curve.
The Toyota Landcruiser LC 76 Wagon GXL is a mixed bag.
In many ways it is an icon from a bygone time like a 70's rock star that simply won't die.  It has dual personalities.
On road and around town it feels like a sumo wrestler trying to buy clothes at Supré.
It is big, cumbersome, has an atrocious turning circle and is simply out of place.
However the dual personality comes to the fore when you turn off the tar roads and head bush, either on dirt roads or on the farm. Here the LC 76 is like a male lion, king of the beasts.
It is here that the LC 76 excels.
The low down torque delivery combined with low gearing means that it will gently putter along where needed.
It is simply superb. It is unmatched by any other 4WD currently.
In today's market there really isn't a direct competitor for the LC76 Wagon GXL.
The LC 70 series vehicles are extremely popular with buyers in mining, agriculture, construction, and communications support and recreation industries.
They value the almost indestructible nature of the ubiquitous LC 70 series.
The Toyota LandCruiser 76 Wagon GXL has a rightly deserved unrivalled reputation for class-leading mechanical reliability and serious towing, load carrying and off-road performance.
It is easily upgraded with a plethora of factory or aftermarket accessories to make it even more unstoppable in the bush.
Facts and Figures: 2017 Toyota LandCruiser 76 Wagon GXL
Engine: 4.5L V8 diesel developing 151kW and 430Nm
Transmission: Five-speed manual
Warranty: Three years
Safety: Three stars
Origin: Japan
Price: from $72,270