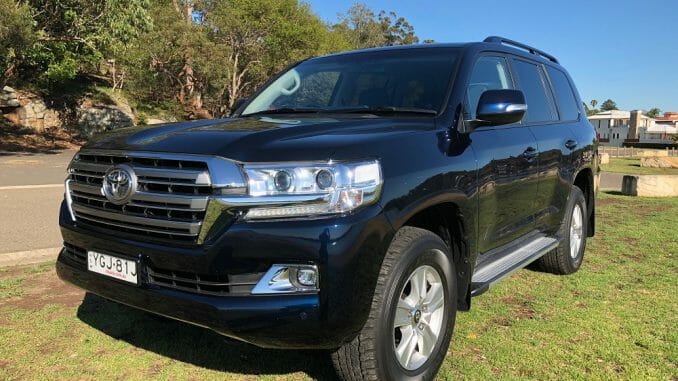 One of the most often asked questions that I get is "what would you buy, if you had to buy a car?", my answer is always a Toyota LandCruiser 200 Series.
I really can't name a vehicle that does as much as the big Toyota.
The only weak point is the pricing. For this particular variant (the Altitude), you're looking at more than $93,000 and that's just not going to happen for many Aussie families.
The bargain-basement GX starts from a bit over $77,000, the GXL is $88,500 and some change – both have the same engine/transmission etc. and might be an option for you if the budget won't stretch to the Altitude.
External
It has a surprisingly good turning circle, and the big wing mirrors and reverse camera help you get it into parking spots.
Internal
I used the LandCruiser to take the kids to school and do a bit of running around in the suburbs, sure, it is a big vehicle, but that really high seating position and excellent visibility front, side and rear, make it a lot easier to drive than you might think.
Occasionally, you do have to search for a slightly bigger parking spot than you would for a small car, but 9 times out of 10 it fits.
There's plenty of legroom front and rear – a mountain of cargo space (and there's even some space if you're using the third-row of seats).
All the controls are well-placed and there's nothing too difficult about this vehicle at all.
Features
It has seating for eight people (comfortably), it can go just about anywhere (and further with a few mods), Japanese quality, it's nice to drive, is a lovely tourer, powerful, surprisingly efficient (the diesel) and can tow 3,500kg (with ease).
I was a bit surprised to see that the Altitude didn't have auto headlights – seems a big oversight in a car on the other side of ninety grand!
Drive and Engine
The best bit though is what's under the bonnet – one of the best engines getting around – Toyota's silky-smooth 4.4 litre turbo-diesel V8.
Giving you a hefty 200kW/650Nm it never feels under strain – and while the LandCruiser is no racing car, the power helps get the big Toyota keeping up easily with the traffic.
Around town you can expect to use around 12L/100km, though if you drive conservatively you can do better than that.
Safety
The Toyota LandCruiser comes with a five star ANCAP safety rating.
Good Bits
Spacious with good legroom
Efficient diesel engine
Powerful and easy to drive
Great visibility
Good turning circle
Not So Good
Hefty pricing
No auto headlights
Facts and Figures: 2018 Toyota LandCruiser
Engine: 4.4 litre turbo-diesel V8 200kW/650Nm
Transmission: Six-speed auto
Safety: Five stars
Warranty: 3yrs/100,000km
Origin: Japan
Price: from $93,460
2018 Toyota LandCruiser Altitude
Summary
Big and beautiful and as I said the best all-rounder you can get, if you can find the dollars there are very few weaknesses in the 200 Series Toyota LandCruiser.
There will always be a place in my garage for one of these.