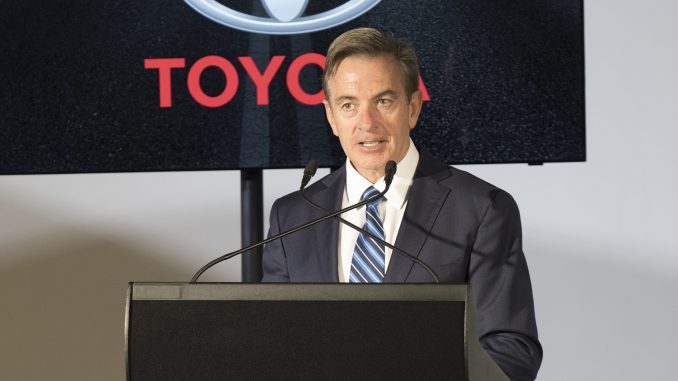 Toyota Australia has confirmed the appointment of Matthew Callachor as its new president and CEO during a formal ceremony at the company's headquarters in Melbourne.
Mr Callachor's move into the top position in Australia is the culmination of a 36-year career of achievement with Toyota during which he has developed extensive knowledge and experience locally as well as in the United States and Japan.
It follows an 18-month tenure as Toyota Australia's vice-president where he was responsible for the sales, marketing, product planning, corporate services and finance divisions.
During his career, Mr Callachor became the first Australian executive to oversee a Lexus division in Japan when he was named general manager of global Lexus planning, a position he held for three years from 2014.
At Lexus, he played a leading role in developing the medium to long-term strategy for Lexus, including last year's launch of the "Experience Amazing" brand tagline.
Earlier, Mr Callachor spent two years with Toyota Motor Sales USA, where he gained valuable insights working in sales and marketing for the Toyota group's largest market.
Mr Callachor said it was a privilege to be named president of a company that has led national new-vehicle sales for the past 15 years in a row with a vehicle line-up that includes Australia's best-selling vehicles in each of the past five years.
"My commitment to the Toyota family is that we will continue to deliver industry-leading vehicles and services and work even harder to ensure our owners receive amazing 'Oh what a feeling!' moments," Mr Callachor said.
"It is also exciting to be in this leadership position with a global company that is investing more than $1 million an hour in research and development of new vehicles including those with self-driving technology and alternatives power sources such as hybrid, electric and fuel-cell vehicles,"
Mr Callachor began his career at Toyota Australia as a marketing analyst in 1982 after completing a Bachelor of Business degree, majoring in marketing.
His career advanced rapidly to include regional sales manager in Queensland and general manager roles for national sales and then national marketing.
On his return to Australia from the United States in 2002, Mr Callachor led a breakthrough project that resulted in the creation of the company's first customer-service division and his appointment as its divisional manager.
In 2005, he moved into the senior national marketing role. A year later, following the amalgamation of the sales and marketing divisions, he was appointed as head of the combined units.
Mr Callachor progressed to leadership of national service, parts, logistics and warehousing – a key support division for Toyota's national network of more than 210 dealerships.
In 2010, he was offered a directorship with Toyota Motor Corporation Australia and the position of executive director sales and marketing.
Mr Callachor, 56, is married with two children.