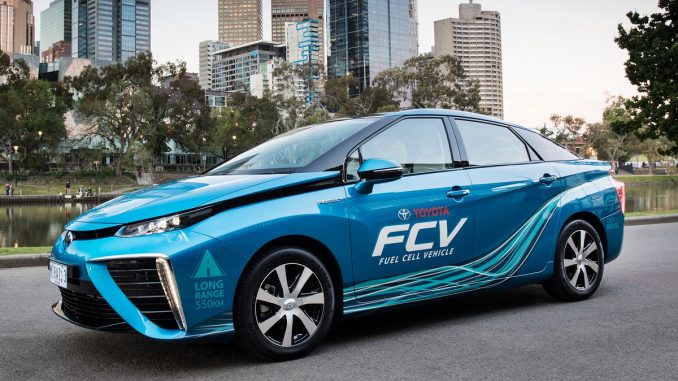 Toyota Australia has joined forces with industry heavyweights to accelerate the reality of a hydrogen society built upon clean and renewable energy technology.
Australia's leading automotive company has become a foundation member of Hydrogen Mobility Australia (HMA), which has been established to support the transition from fossil fuels to renewable energy sources.
HMA will foster industry and government co-operation for regulations, codes and standards to support the introduction of a hydrogen economy in Australia.
It will also undertake government advocacy, research, education and industry engagement program promoting the benefits of fuel cell technology.
Toyota vice-president product and corporate Mike Rausa said HMA regarded hydrogen as a fuel of the future for supplying the clean energy needs of Australia, including for vehicles.
Mr Rausa, who is also a director of HMA, said pairing carbon-free hydrogen and fuel-cell technologies with renewable energy sources could contribute significantly to energy sustainability.
"Toyota's foundation membership of HMA aligns with our global drive to promote sustainable mobility and to play a leading role in the transition to widespread low carbon energy use," Mr Rausa said.
"Hydrogen has the potential to play a pivotal role in the future because it can be used to store and transport energy from wind, solar and other renewable sources to power many things, including vehicles.
"The sooner we move to a zero emissions society, the better. Toyota along with everyone involved in HMA is committed to making this a reality."
HMA grew out of a Toyota-backed industry initiative which identified the need for co-operation within the hydrogen community, to focus on development of standards and supporting infrastructure such as refuelling stations.
Toyota's parent company in Japan has been a leader in designing and manufacturing vehicles while keeping the environment in mind. This is evident through the introduction of the iconic Prius 20 years ago as well as launching the world's first mass-produced fuel-cell sedan, the Mirai, in 2014.
Late last year, Toyota announced a significant acceleration in the development and launch of electrified vehicles including hydrogen fuel-cell, hybrids and battery electric models.
Toyota said it is aiming for electrified vehicles to account for more than 50 per cent of its new-vehicle sales around the end of the next decade.
Even sooner, by around 2025, every model would be available as either a dedicated electrified model or have an electrified option.