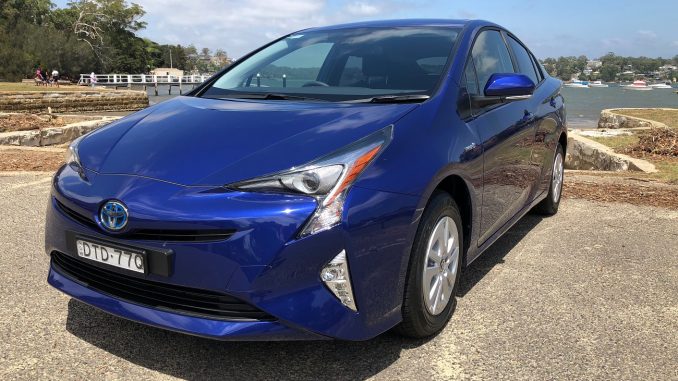 Should I buy a Toyota Prius? That's a question motorists have been asking for nearly 20 years.
Despite all the good attributes of Toyota's original hybrid offering, as with its petrol/electric brethren from Toyota and other brands, how the fuel prices of the day are travelling correspond directly with how popular the car is.
For those brands marketing a car primarily around fuel savings in a landscape of relatively low fuel prices are currently struggling to convert large numbers of buyers looking to cut their weekly running costs.
And really, despite the perceived/potential environmental benefits of the Toyota Prius, that's traditionally the prime focus of people who have chosen to pay the extra dollars up front for a hybrid.
Exterior
Toyota introduced the new-generation Toyota Prius into Australia in 2016 and with it came a completely new look for the five-door hatch offering.
Where the earlier cars were conservative and relatively bland to look at (they looked like styling was a low priority for designers), the new model has some interesting kinks, angles and shapes.
Is it a great looking car? Well, to me it looks OK from the front, but I'm not in love with the side profile towards the rear, or the rear in general.
Interior
Things are a lot more enjoyable and attractive on the inside of the 2018 Toyota Prius.
Your eyes are first drawn to the large centre infotainment strip on the upper section of the dashboard. Here you will find all the important info such as fuel use and a very large digital speedometer.
The centre placement takes a little getting used to and I'm still not convinced having the speedo further away works any better than the traditional eyes-forward positioning.
Also in the Prius cockpit is a decent-sized infotainment screen.
This screen runs the older Toyota infotainment software that is simple enough, however I have always found many of the buttons on the screen to be a bit too small and fiddly.
Around the screen are the non-tactile buttons that I have never liked (in Toyota cars and vehicles from other manufacturers) as these are very hard to use on the go without taking your eyes off the road.
The Prius has a long and thin kind of feel about it and that means there's decent front and rear legroom and head and shoulder room is also reasonable. Seating though is primarily four-seats.
The boot space is also reasonable and about on-par for a five-door hatch.
Reasonable is also a good word to use when talking about the size of the door pockets and glove box, though the centre console bin is surprisingly large.
A couple of small comfort complaints though – firstly, the door armrest feels to be lower than the centre armrest, thus I felt as though I was always sitting on a bit of an angle.
Secondly, there is a fairly decent floor hump just ahead of the driver's seat and that made it hard to rest your leg there on longer trips.
Features
I had just the garden variety Prius and not the upper-spec Prius i-Tech, regardless you get a very good line-up of standard features.
These include sat-nav, digital radio, 10-speaker stereo, reverse camera, adaptive cruise control, LED headlights and taillights and a push-button ignition.
Then there's the best feature of them all – an inductive charging pad.
Well positioned (in the forward area of the centre console), you simply pop your smartphone down there and it starts to recharge your battery on the go.
Yes, you need a phone that is able to be charged without the cord, and you also need a case that allows for inductive charging – I have both and I absolutely love the feature.
Drive and Engine
Surprisingly, the Toyota Prius is a nicer vehicle to drive at speed on the highway than it is on city streets.
More than happy to cruise along at 110km/h on the freeway, the hefty battery pack under/behind the rear seat helps give the Prius a more planted feel than what you get in siblings like Corolla and Yaris.
There is good flexibility when driving around in town, which is when you really want to be saving fuel, with three distinct drive modes – Eco, Normal and Sport.
The electric drive in Eco/Normal or when just using light acceleration at low speeds is pretty pedestrian (i.e. you could get out and run faster!), but the Prius has the flexibility to provide decent acceleration simply by putting your foot down further.
And did I save fuel in the Prius? Yes, I averaged a bit over 4.0L/100km and we all know that a comparable five-door hatch is most likely going to use about double that amount.
The 15″ tyres with 65 series tyres provide a comfortable ride and the light steering helps make the Prius a very easy and pleasant vehicle to get about in.
Safety
The 2018 Toyota Prius comes with a full five-star ANCAP safety rating.
Standard safety gear includes a reverse camera, rear cross traffic alert, front, head and side (front) airbags, and forward collision warning.
Good Bits
Fuel economy
Inductive smartphone charging
Ease of driving/use
Interior space
Features
Not So Good Bits
No Apple CarPlay/Android Auto
No Autonomous Emergency Braking (AEB)
Price
Summary
Great on fuel, not bad to drive (albeit dull at low speeds), well-equipped (AEB and Apple CarPlay/Android Auto not withstanding), roomy enough inside (especially for four), there's no reason not to choose a Toyota Prius based on its basic fundamentals.
Is it worth paying the extra dollars for? Perhaps not as fuel prices stand today, however if you were going to make a long-term commitment to a Prius (5+ years) and you traveled enough kilometres each year, then you might just end up better-off in the long run.
Not quite as much a 'science project on wheels' as the earlier hybrids, the Prius is a clever car that despite being a little dull (and a little ugly), has a certain likable charm about it.