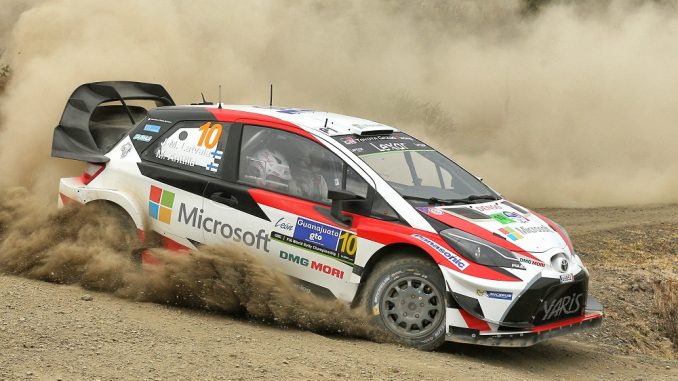 Toyota's world rally team will face the highest altitudes of the season and go underground through former silver-mining tunnels in next week's Rally Mexico.
Toyota GAZOO Racing WRT has prepared thoroughly for the first gravel event of the season, testing its engines on an altitude dynamometer in Japan as well as making off-season improvements to the cooling of the Yaris WRC turbo engine.
Rally Mexico, first held in 2004, includes 30-degree ambient temperatures and competitive stages at more than 2700 metres, reducing engine power by 20 per cent.
The Toyota team is one point off the world manufacturers' championship lead and has already won 12 stage victories after competing on ice and snow in Monte Carlo and Sweden.
Its most experienced driver Jari-Matti Latvala is a former winner in Mexico, while new signing Ott Tänak will compete for the first time in a Yaris WRC on gravel and Espakekka Lappi is competing in Mexico for the first time.
Team principal Tommi Mäkinen said Toyota GAZOO Racing has significantly improved the Yaris WRC cars based on the learnings from last year's Rally Mexico, which was the team's first gravel event in its debut season.
"We have improved the cooling and the engine, and have even been on an altitude dyno in Japan," he said.
Latvala said a pre-event gravel test in Spain had confirmed the value of the latest suspension development on the Yaris WRC cars.
"The performance is there in the car," he said. "We had some updates to the suspension and I could feel the traction and the grip under braking are better than what we had last year.
"Mexico has sections that are very fast and also lots of loose rocks, so you have to be precise with your driving," he added.
Tänak said he has some learning to do for his first competition drive on gravel in the Yaris WRC.
"The two days of testing in Spain were quite useful," he said. "We tried as many different things as possible to understand how the car reacted and the feeling on gravel is quite good."