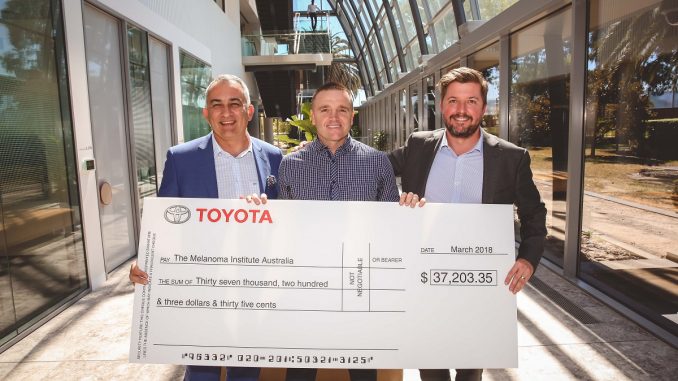 Fans at this year's Toyota Country Music Festival have contributed more than $37,000 to the fight against melanoma, the deadliest form of skin cancer.
Most of the money came from the traditional Toyota hat fund-raiser where festival patrons donate $2 to receive one of the popular broad-brimmed hats.
Thousands of festival-goers had their hats signed by Toyota ambassadors including Lee Kernaghan and the McClymont sisters as well as 2018 Toyota Star Maker Brad Cox.
Toyota Australia vice president of franchise development and regional operations Evan Tsirogiannis said support for the fight against skin cancer was vital because Australia has one of the highest rates of melanoma in the world.
"Toyota is proud to support the Melanoma Institute Australia and its world-leading research, clinical treatment and education which are aimed at preventing, treating and finding a cure for this potentially devastating cancer," Mr Tsirogiannis said.
"The involvement of Toyota ambassadors shows they are just as passionate about combatting a disease that affects so many Australians. Lee Kernaghan, being such a renowned hat wearer, is a great influence on encouraging Australians to be sun smart."
In addition to the Toyota Country Music Festival hats, Toyota is a long-term supporter of the Institute's ground-breaking work through National Shade Day.
Melanoma Institute Australia ambassador and community co-ordinator Jay Allen accepted the cheque for $37,203.35 from Mr Tsirogiannis.
"As a former melanoma sufferer, I am incredibly grateful to have the support of a global brand like Toyota, which has the reach and influence to drive great results to aid local causes affecting Australians nationwide," Mr Allen said. "These funds will help fuel our research into melanoma prevention and treatment," he said.
Melanoma is the deadliest form of skin cancer with one Australian dying from the disease every five hours. It is the most common cancer affecting 15 to 39-year-olds and incidence in the over-60 age bracket is also increasing. This year, 14,000 Australians are expected to be diagnosed with melanoma.
Prevention is the key to saving lives. All Australians are urged to wear SPF 50+ sunscreen and re-apply at least every two hours or after swimming or activity. Other potentially life-saving measures include wearing a broad-brimmed hat, long pants, long-sleeved shirt and sunglasses, and seeking shade in the heat of the day.
Image: (L to R) Toyota's Evan Tsirogiannis, MIA's Jay Allen and Toyota's manager events, sponsorship & promotion Mitch Wiley.