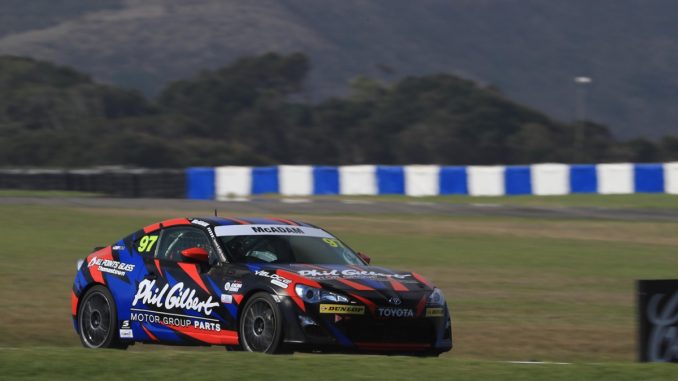 It was a hotly contested start to the season with 20 drivers finishing within one second of each other in qualifying, with serious competition between the newcomers and series veterans in race one.
Queensland young gun Liam McAdam is off to an impressive start in the 2018 Toyota 86 Racing Series, taking out pole position and the first race of the season at Phillip Island.
Leading the way in a vastly competitive field, McAdam impressed with his flawless driving and focus on the finish line.
"I got a good start off the mark and kept my nose clean, and managed to pull away. I could see the guys right behind me the whole way but l managed to hold on. It was certainly tough racing and it'll be interesting to see what happens tomorrow." McAdam said after the race.
It wasn't just a day of firsts for McAdam, with 15-year-old debutant Jaylyn Robotham securing an impressive second place.
When asked about his expectations coming into the weekend, the humble Robotham laughed and said, "I just wanted to finish, I wasn't expecting a podium in the first race."
Multiple championship winner and invited driver Chris Pither thoroughly enjoyed his first outing in the 86 race car.
"I had a ball out there. I was happy in qualifying this morning to close the gap to the quicker guys. I started 13th and feel like I passed about 13 guys but I finished 12th. The racing was close and exciting, and I had a ball. It's really important to know the car and keep the rolling speed up."
A tight battle raged between 15 year old Broc Feeney and Chris Pither for a large part of the race, with Pither clinching three positions in a smooth move down Gardner Straight.
"The battle went on for most of the race. I had a clean run out of MG, got a run out of them at the last corner and at one point it felt like we were going nearly four abreast down turn one. I managed to pull out at the right point along the front straight and the gap was there on the inside." said Pither.
Series contender Tim Brook finished in third place with another T86RS lap record in his new car 'Black Betty'.
Race 2 of the 2018 Toyota 86 Racing Series commences from 9:30am tomorrow (Sunday).
THE TOYOTA 86 RACING SERIES
The Toyota 86 Racing Series is designed to provide an entry point and training ground for up-and-coming drivers, offering a confirmed prize pool of $150,000.
Top-three place rewards for the year are $50,000, $30,000 and $15,000. The coveted Kaizen Award for continuous improvement now includes prizes valued up to $35,000 including a fully funded trip to compete in a round of New Zealand's 86 racing series. The entry fee is unchanged at $1,500 per round.
Open to variants of Toyota's cult-classic sports car, the series is part of the support program at selected rounds of the Virgin Australia Supercars Championship.
In 2018 the Toyota 86 Racing Series will run over six events: Phillip Island 500 (April 20-22), Townsville 400 (July 6-8), The Bend SuperSprint (August 24-26), Sandown 500 (September 14-16), Bathurst 1000 (October 4-7) and Newcastle 500 (November 23-25).
For regular updates and more information go to https://toyota.com.au/86/racing-series