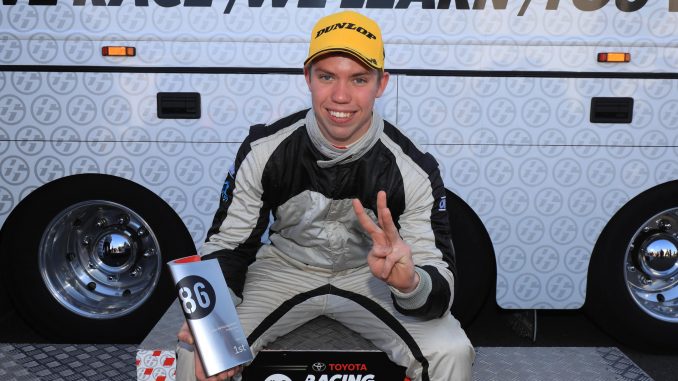 It was another day of good, clean, competitive racing at Phillip Island with Liam McAdam taking a hat-trick at the first event of the Toyota 86 Racing Series in 2018.
McAdam's win was not without a fight in race two, trading the lead with 15-year-old Jaylyn Robotham in the first lap, setting the tone for the battle to come.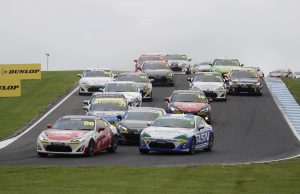 Haydn Clark suffered engine problems on lap two triggering the safety car.
Upon race restart, tenacity prevailed for McAdam ultimately moving ahead of the young gun Robotham on lap six, leaving Brook, King and Robotham to fight it out for the remaining podium spots.
"It was a tougher race than the last one – a good fight with Jaylyn and we had Tim Brook behind us as well. It was good clean racing, I was really happy with the way Jaylyn raced with me. We gave each other respect and racing room," McAdam said after the race.
Big moves from series veteran Luke King saw him progress from 15th in qualifying, to an impressive third place in race two.
"The key for us is our start, we are usually quite quick to get off the line. Nic Carroll and Cam Walton were really quick in front of us, once we got past them we just set into a groove and focused on making top three," King said after the race.
It was all smooth sailing for McAdam in the final race of the weekend, leading a freight train of 86 vehicles and finishing almost two seconds ahead of the pack.
"A clean sweep to start the year, it certainly doesn't get any better than that. Jaylyn Robotham is 15 years old, he's fast, he's got the talent and he's a clean racer. He certainly made me work for the win" said McAdam.
A stellar finish for Luke King and Adam Gowans capped off the podium in race three, who finished second and third respectively.
Engine issues drove Declan Fraser to a disappointing end to the weekend, having to retire within moments of the final race.
Invited driver Leanne Tander also had a challenging weekend, qualifying 28th and finishing 22nd in race three.
"It's always a struggle starting from the back because there are so many cars on the track. This weekend everyone was so close in times, I battled my way through a little bit which was good. I finished 22nd which is where I started for race three. A little bit frustrating, I think I could have been a bit further up the order but it was fun as always. I had a great time – it was proper racing, passing every lap, wheel to wheel with a bit of rubbing."
When asked about her thoughts on the 2018 season, Tander said "I think it's closer than ever this year. It was always tight at the top but there used to be a bit of a gap as you dropped back through the field. I think this weekend shows the level of talent coming into the category, as well as the development of the drivers that have raced in previous years."
It was a weekend that demonstrated youth can sometimes trump experience. In race three, 15 year-old debutant Broc Feeney stormed into 12th place making up 16 positions, having started from 28th. Consistent and competitive all weekend, 15 year-old Jaylyn Robotham can be pleased taking home second, fourth, and seventh.
Race two results:
1. Liam McAdam
2. Tim Brook
3. Luke King
Race three results:
1. Liam McAdam
2. Luke King
3. Adam Gowans
The Toyota 86 Racing Series next stop is Townsville from 6-8 July 2018.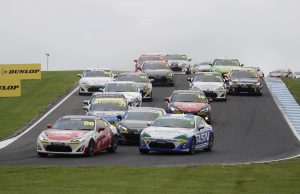 THE TOYOTA 86 RACING SERIES
The Toyota 86 Racing Series is designed to provide an entry point and training ground for up-and-coming drivers, offering a confirmed prize pool of $150,000.
Top-three place rewards for the year are $50,000, $30,000 and $15,000. The coveted Kaizen Award for continuous improvement now includes prizes valued up to $35,000 including a fully funded trip to compete in a round of New Zealand's 86 racing series. The entry fee is unchanged at $1,500 per round.
Open to variants of Toyota's cult-classic sports car, the series is part of the support program at selected rounds of the Virgin Australia Supercars Championship.
In 2018 the Toyota 86 Racing Series will run over six events: Phillip Island 500 (April 20-22), Townsville 400 (July 6-8), The Bend Supersprint (August 24-26), Sandown 500 (September 14-16), Bathurst 1000 (October 4-7) and Newcastle 500 (November 23-25).