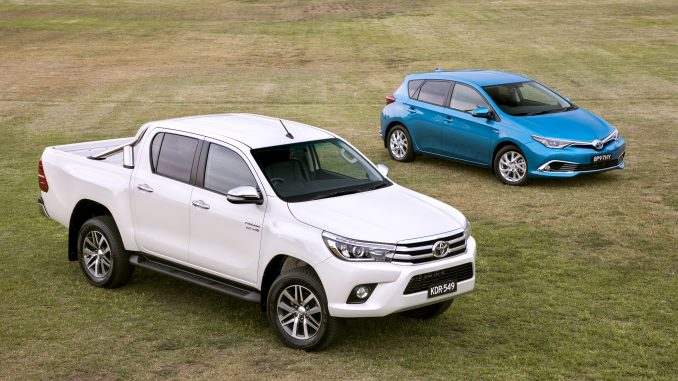 Toyota's HiLux and Corolla were Australia's best-selling vehicles in April – the 19th time these stablemates have achieved the quinella. That is a feat!
HiLux was the country's top-seller last month with almost 3,600 sales while Corolla was the runner-up with close to 3,000 sales.
The HiLux tally has been bettered in an April only once previously – at the height of the mining boom in 2008.
So far this year, HiLux – which recently gained three halo variants, Hilux Rugged and Rugged X and Hilux Rogue – has topped the national sales charts with more than 16,200 sales. HiLux leads both the 4×4 and 4×2 segments.
Corolla is Australia's best-selling passenger car with more than 12,200 deliveries in 2018, continuing its leadership of the past five calendar years.
Toyota's market-leading April sales of almost 16,650 vehicles is 3.5 per cent higher than for the same month last year. It resulted in a market share of 20.1 per cent.
So far this year, consumers have bought more than 69,000 Toyota vehicles, which represents the strongest demand for the brand since 2008. The total is 4,500 additional sales or 7.0 per cent higher than for the same period in 2017.
Other notable sales results for April 2018 compared with a year earlier include double-digit growth for each member of the LandCruiser family (Prado, 70 Series and 200 Series) as well as for Kluger, HiAce bus, Corolla and HiLux 4×2.
Toyota Australia's vice president sales and marketing Sean Hanley said the company's broad range of in-demand vehicles and innovative measures to continue building customer loyalty had resulted in substantial momentum, particularly among its SUVs and light-commercial vehicles.
"Toyota has now entered an intensive two-month period of sales leading up to the end of the financial year," Mr Hanley said. "It's a firm demonstration that we really do mean business."