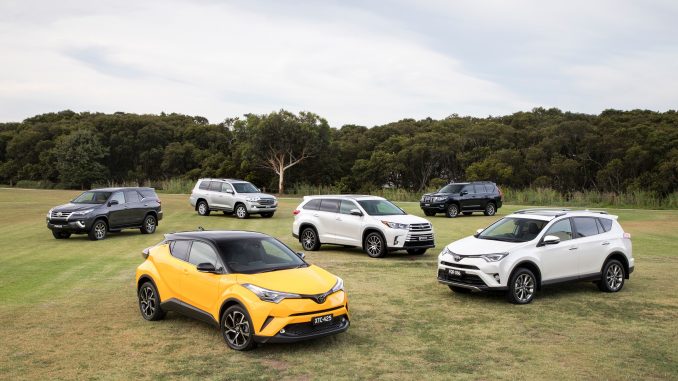 May sales set new high of 7,500 SUVs
HiLux and RAV4 sales at record levels
Best January-May sales for Toyota in a decade**Toyota is riding the crest of Australia's wave of SUV popularity, selling an industry record of more than 7,500 SUVs last month.

The May SUV total represented 38.5 per cent of the 19,500 Toyota new-vehicle sales for the month.

Toyota's SUV tally beat the previous industry record of 7,050 SUVs established by the market leader as recently as March this year.

So far in 2018, Toyota's SUV deliveries have topped 33,400 vehicles – an increase of 6,000 SUVs or 22 per cent compared with the same stage last year.

The rapid recent acceleration in SUV sales is demonstrated by the fact that May was the 10th consecutive month that Toyota has set a monthly record for SUV sales.

Last year, SUVs overtook passenger cars to become Australia's largest automotive segment. Toyota led the SUV market with 71,660 sales.

The strength of SUV sales is a major factor in Toyota this year delivering its highest January-May sales in a decade – more than 88,600 vehicles.

Toyota's total represents a gain of 5.0 per cent over the same period last year, resulting in overall sales that are more than 40,000 ahead of any other brand.

Stand-out performers include:
• HiLux – Australia's best-selling vehicle this year with records for both 4×4 and total sales; it was also the best-seller in May.
• Corolla – the nation's top-selling passenger car in May and so far this year;
• RAV4 – the strongest sales in its 24-year history in Australia with monthly records in seven of the past eight months;
• Prado – best May and best January-May sales since 2012.

Toyota Australia vice president sales and marketing Sean Hanley said June was traditionally the strongest sales month of the year and he expected the brand's positive sales momentum to continue.

"We have the product range and marketing campaigns locked in to ensure Toyota and our dealers can deliver well over 20,000 vehicles in June while carrying over a healthy order bank into the third quarter," Mr Hanley said.