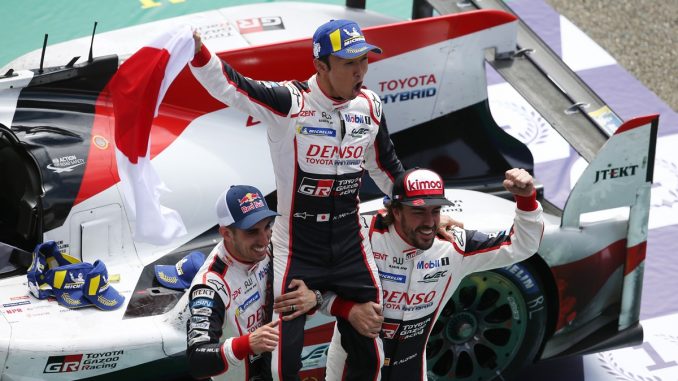 Toyota has secured an historic victory at Le Mans with a 1-2 result in its 20th attempt at the iconic endurance race.
After 24 hours and 388 laps of the La Sarthe circuit, Sébastien Buemi, Kazuki Nakajima and Fernando Alonso in the #8 TS050 HYBRID took the chequered flag ahead of Mike Conway, Kamui Kobayashi and José María López, in the #7 Toyota GAZOO Racing car.
The two Toyotas were competing in the premier LMP1 category for prototype cars running a 2.4-litre V6 turbo-charged petrol engine combined with 8MJ hybrid system that generates a maximum combined 735kW of power.
Toyota GAZOO Racing team president Hisatake Murata, said he was immensely proud of the efforts of the entire team.
"It has been our dream to win Le Mans and finally we have achieved it. Thank you so much to everyone for their incredible hard work, team spirit and never-give-up attitude. To win Le Mans for Toyota after so many frustrations and disappointments is a truly magical moment," Murata said.
Buemi started the race on pole position in the #8 car with the second Toyota completing the front of the grid. The two Toyota's then held the lead for the entire race, swapping positions several times, before Nakajima took the chequered flag after covering 5286km.
The Toyota victory was only the second time in 86 editions of the classic French race that a Japanese carmaker has won the 24 Hours of Le Mans while Nakajima became the first Japanese driver to win in a Japanese car.
"It's great to be here finally; it has been a long time. I am almost speechless. I had great teammates and Toyota gave us a very strong car," Nakajima said.
For two-time F1 world champion Alonso, the victory was equally as sweet.
"It has been amazing. We know how important and iconic Le Mans is in the world of motorsport and as a team we achieved an amazing result. Every moment was a reminder of how tough and long this race is, anything can happen so we tried to execute our race and stay calm," Alonso said.
Toyota GAZOO Racing's double podium at Le Mans cements the team's leading position in the World Endurance Championship (WEC) after finishing 1-2 in the first race of the 2018-19 14-month Super Season at Spa in Belgium.
After a nine-week break, Toyota GAZOO Racing will return to the track in the UK on August 17-19 for the 6 Hours of Silverstone.