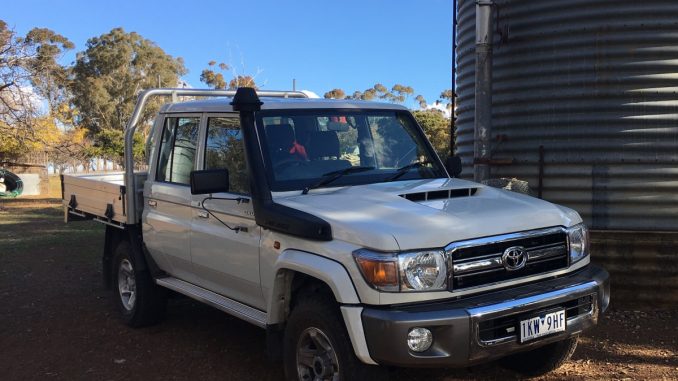 Toyota kindly loaned me a LC70 GXL Dual Cab Ute for a couple of weeks as it has been a while since we tested one and I had a few things to take out to the farm. Having tested the single cab LC70 previously and the dual cab LC70 (back in 2012) , I was keen to see just how much better this latest version was.
Toyota LC70 was updated in late 2016 with a host of features but essentially remains the same rugged robust work beast it always has been. Designed specifically and used mostly for work purposes, such as in the mines, construction sites, farms etc. the LC70 isn't usually on the shopping list for recreational users.
We have even compared the LC70 Ute to the Hino 300 series Truck as an alternative for many uses.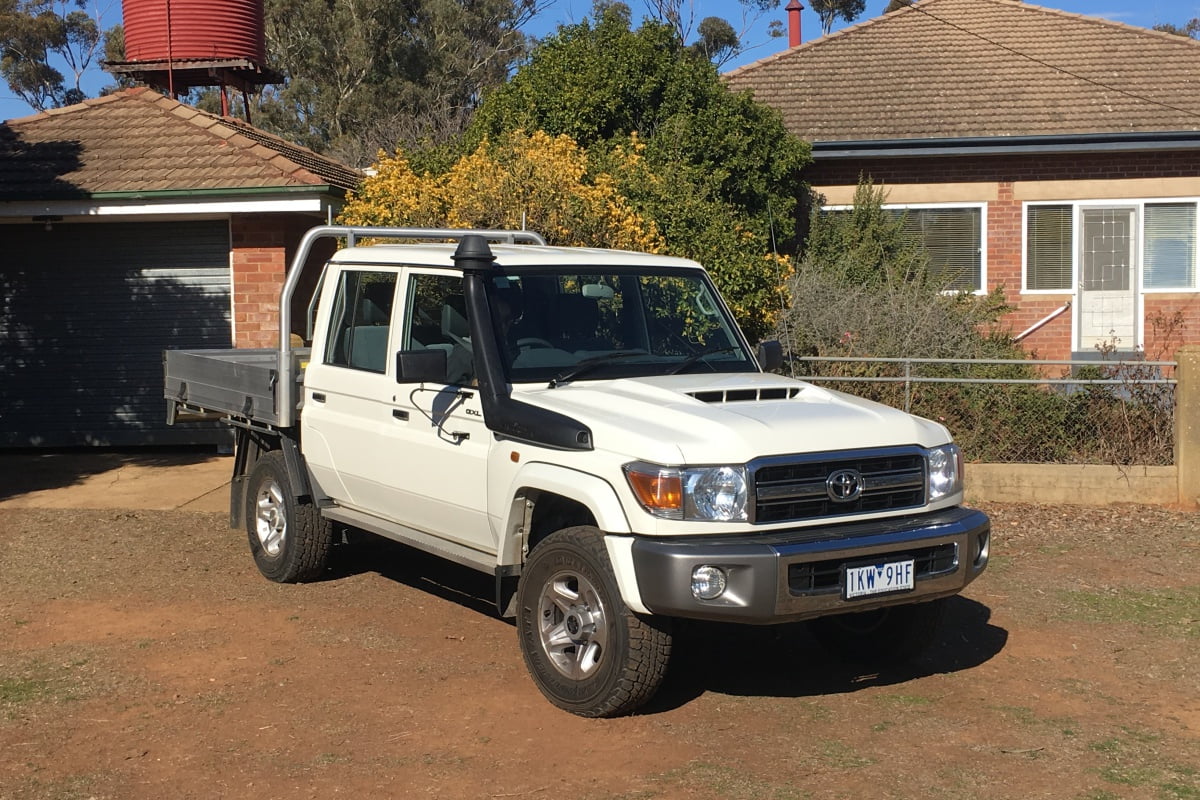 Toyota LC70 Dual Cab Ute External
From the outside the LC 70 looks exactly like it should for what it is designed for. A utilitarian workhorse that would last forever. From the side you realise just how long the Ute is. It has a bold grill, high roofline and sides.
The front has single lights, lower fog lights and bold wheel arches. The particular vehicle we had was fitted with a robust genuine Toyota steel tray, Toyota bull bar, alloy wheels, snorkel, under tray spare wheel carrier and tow bar.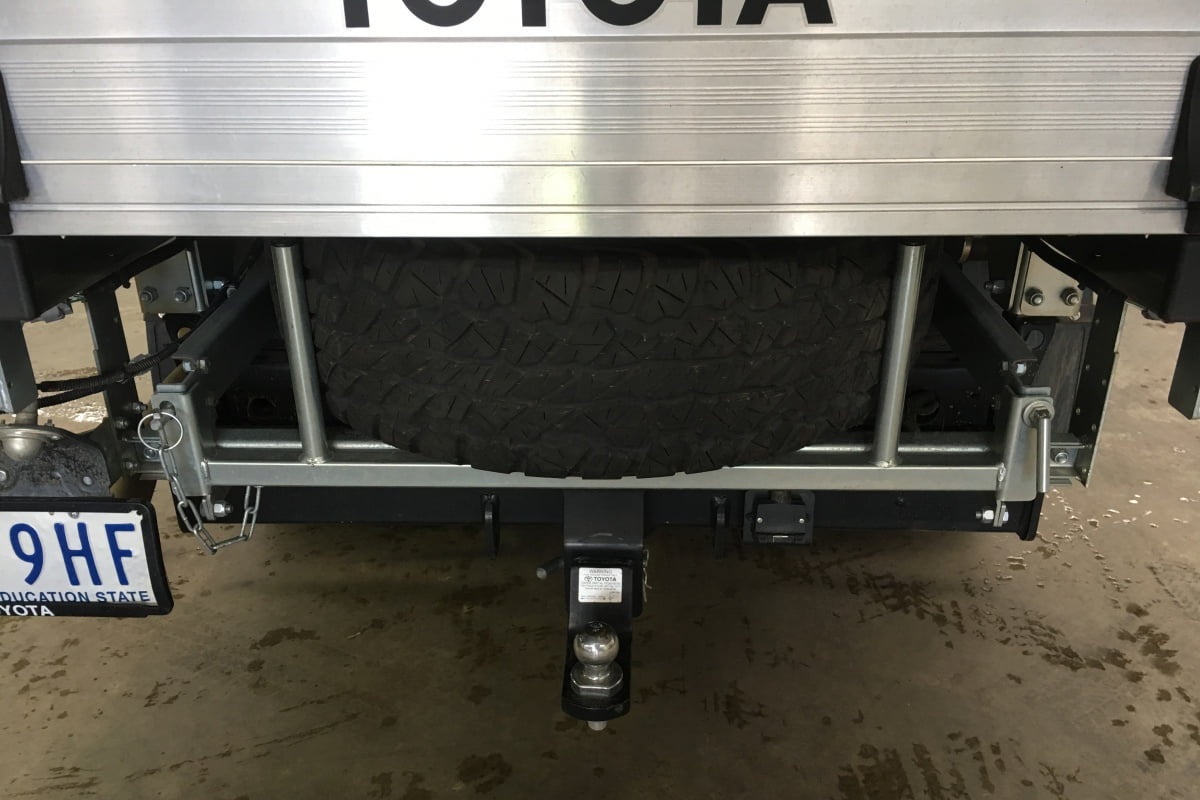 The GXL LC70 Dual Cab rides on 16 inch alloy wheels and 265/70 R16 115R all terrain tyres. These actually look pretty good as well as being robust and functional.
You definitely wouldn't call the look of the LC70 subtle or even stylish, yet it has an undeniable appeal to almost everyone that sees it.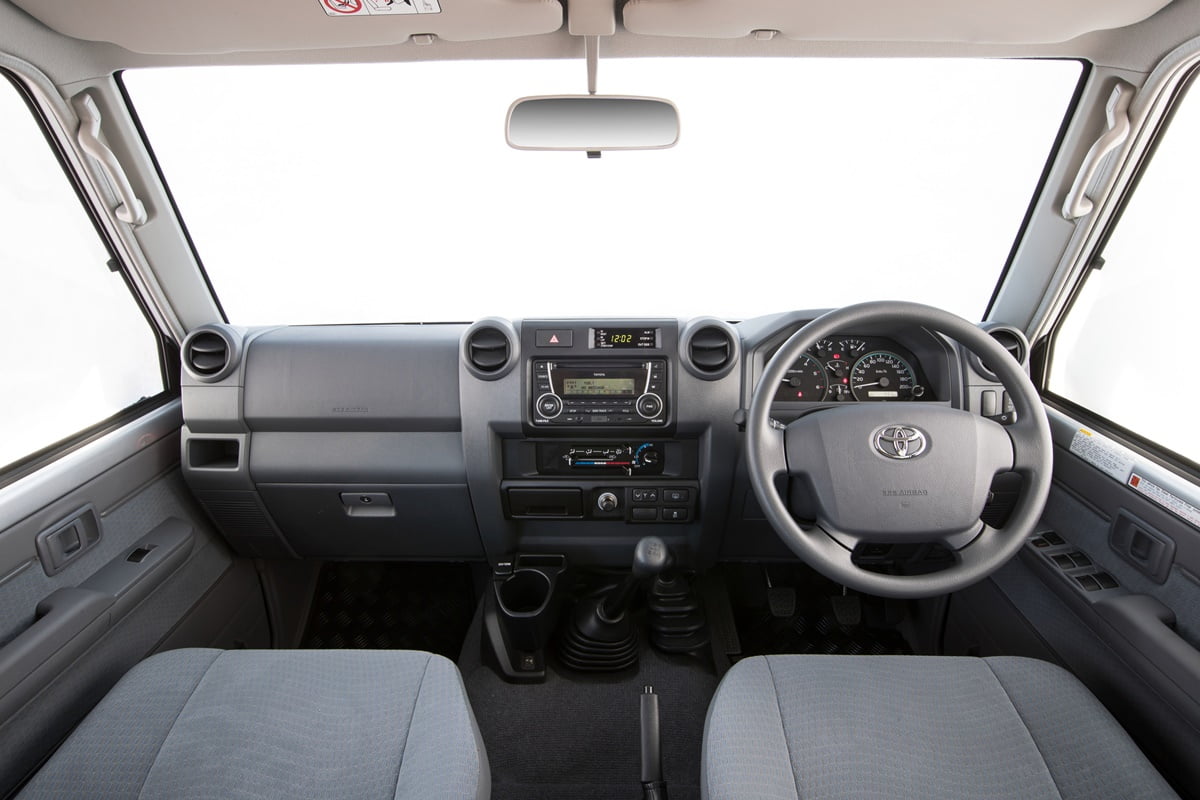 Toyota LC70 Dual Cab Ute Internal
Step inside and it's like stepping back in time. Apart from the soft look dash, many parts of the dash and centre console are remarkably similar to my old HJ60 Sahara LandCruiser from the mid 80's.
The driver seat is comfortable, but could use more slide adjustment for taller drivers. I drove 2500km over the 2 weeks I had the LC70 and all through that time my right knee was at an awkward angle.
Having said this, there is plenty of head, shoulder and butt room for both front passengers. Rear passengers have as much room as other dual cab Utes, more than some, but plenty of head room. Great for keeping the Akubra on.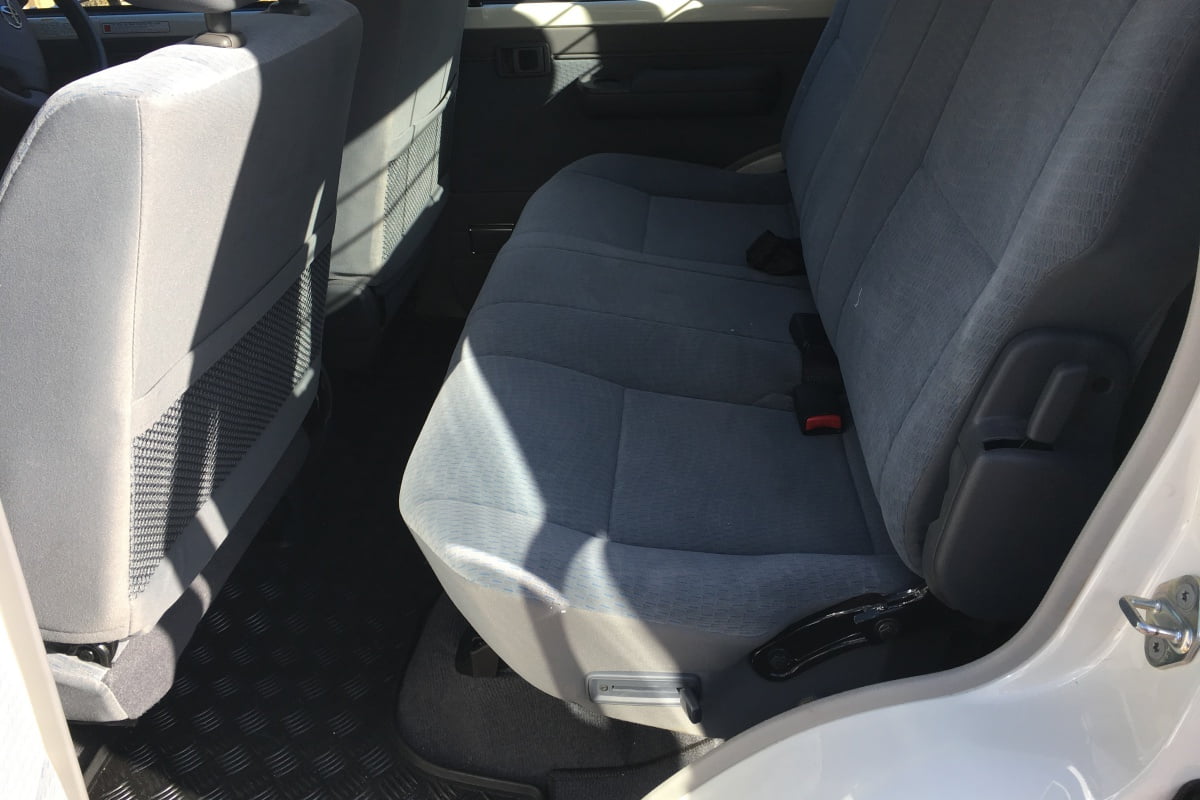 I have to say that personally I don't much like the fabric seats. Only for the fact that they seem to cling to my shirts etc. where the vinyl seats of the GX seem simpler. The front seats have manual adjustments and no additional lumbar support, but they are comfortable enough for long distance travel.
The steering wheel actually feels pretty good in the hands and allows good feedback. It is however totally devoid of any controls.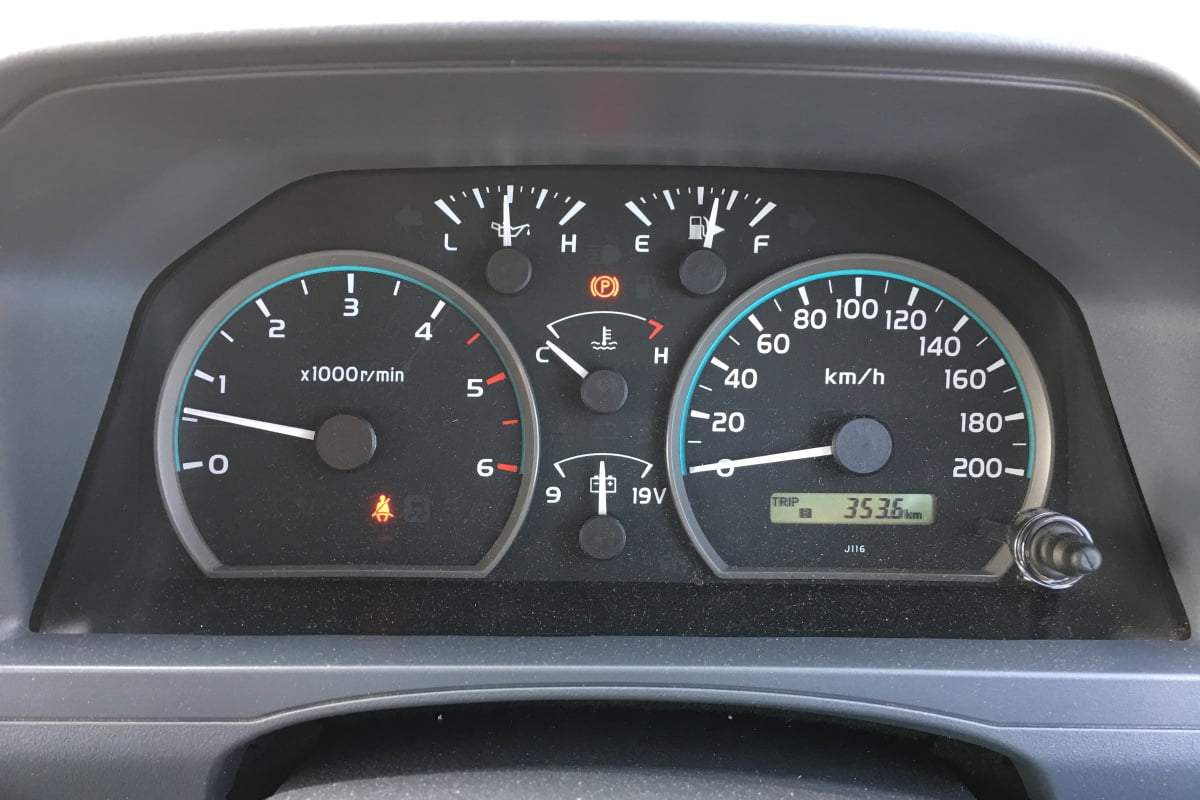 The dash again is vaguely reminiscent of my HJ60. The dash has two larger dials, two smaller and provides a large amount of information.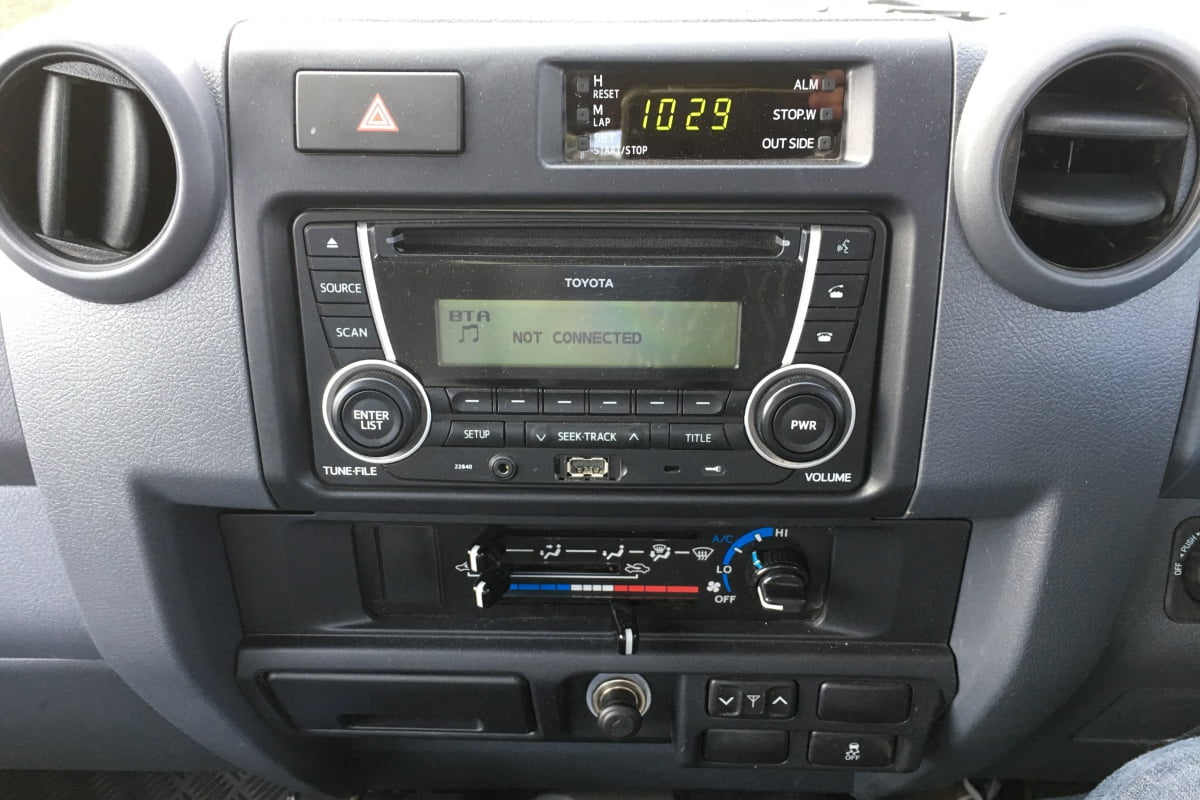 There is a clock on the centre stack, a Bluetooth stereo and below are the slide controls for the AC. There are 12v and USB connectivity points as well.
Storage is a mixed bag. The centre console and glove box are a decent size, but the door pockets are slim and poor, and there is only one cup holder (ridiculous) and precious little other storage areas.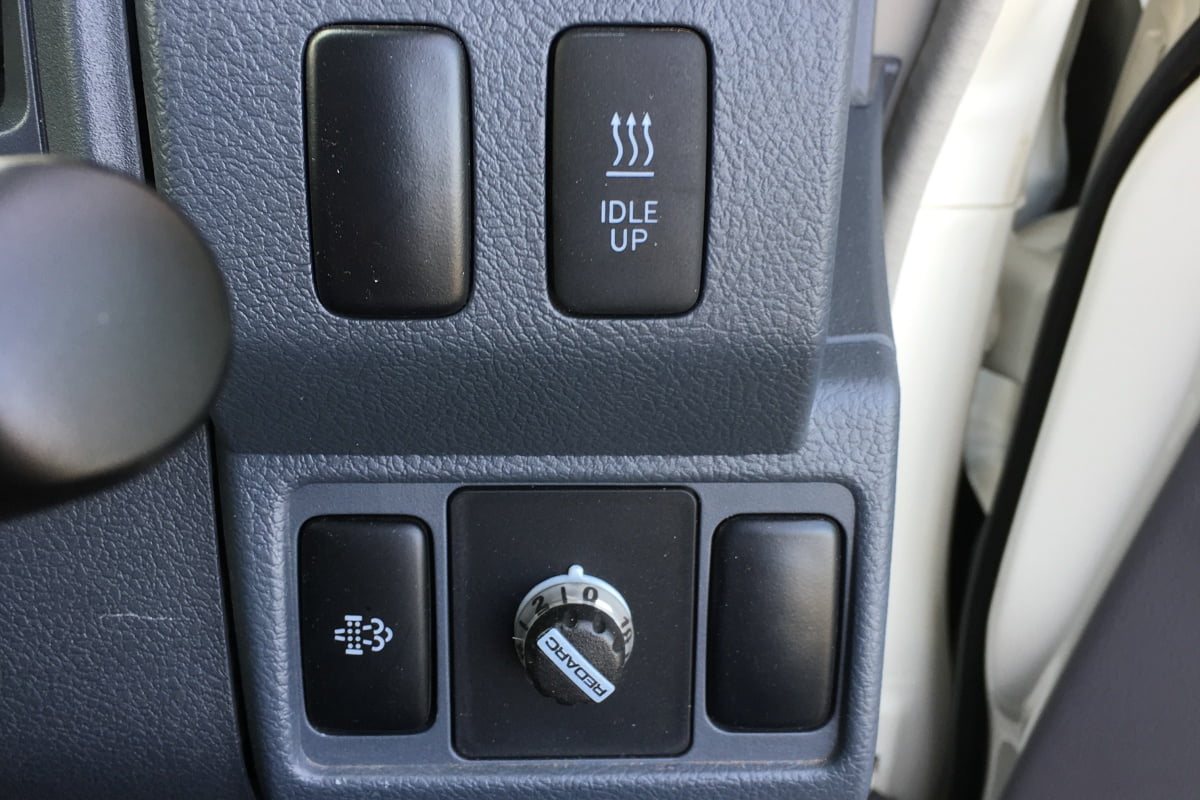 Like my old HJ 60 Sahara there is a hand throttle/idle up button. Apart from some missing features the LC 70 reminds you that you really don't need some of the fancy things that are in vehicles as the older versions still work.
The almost hose out interior is a nod to the practicality and functionality of the LC70.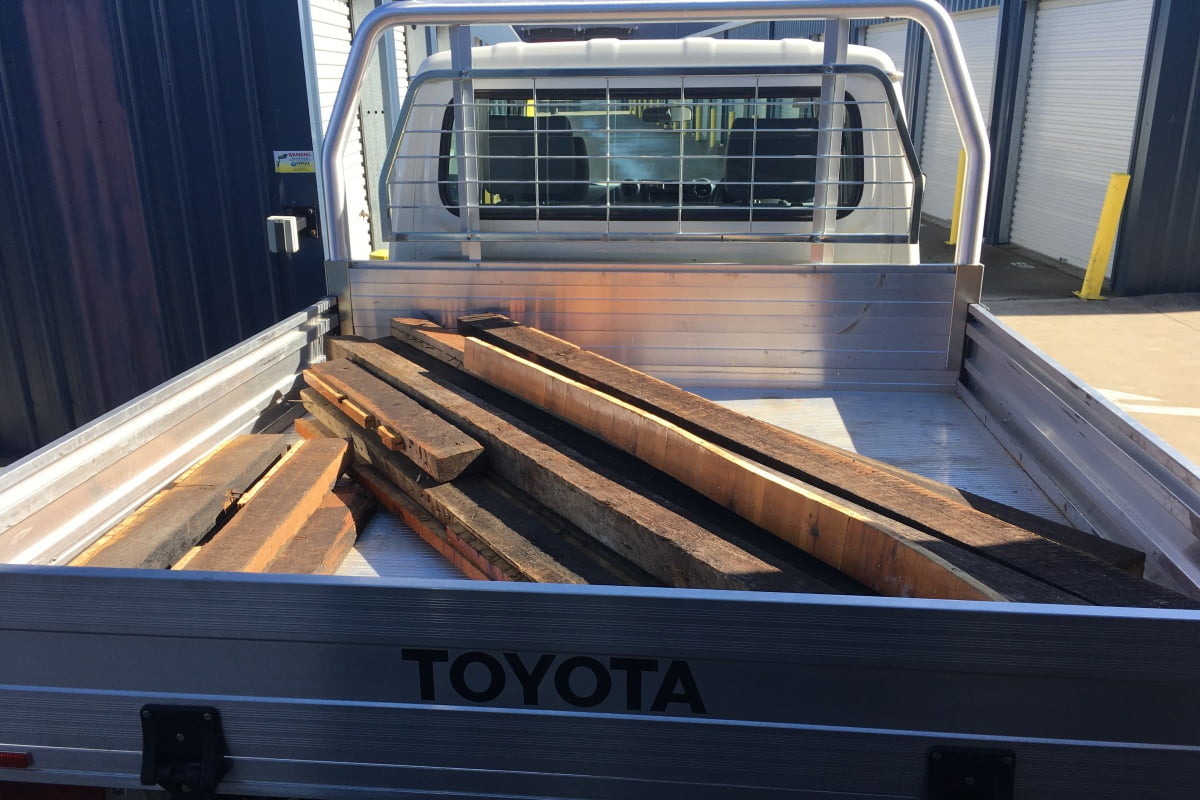 Toyota LC70 Dual Cab Ute Features
This could be a short section as the LC70 isn't exactly laden with features.
Recent improvements have seen some important features added such as
Electric windows
Bluetooth connectivity
Auto locking front hubs (with a manual lock facility)
Active traction control (A-TRC).
Height and reach adjustable steering wheel
Cruise Control
However the story here is about what the LC70 Dual Cab doesn't have as features that are really missed.
No electronic external mirror adjustment (yes, manual mirrors that can be bumped daily in car parks etc.)
No steering wheel controls
Only one cup holder and virtually nowhere to put items other than in the centre console.
No rear window demister
No DTE facility
No reverse camera
Overall, it is fair to say that the LC70 is lacking some features that are taken for granted, and necessary safety features in a vehicle such as this.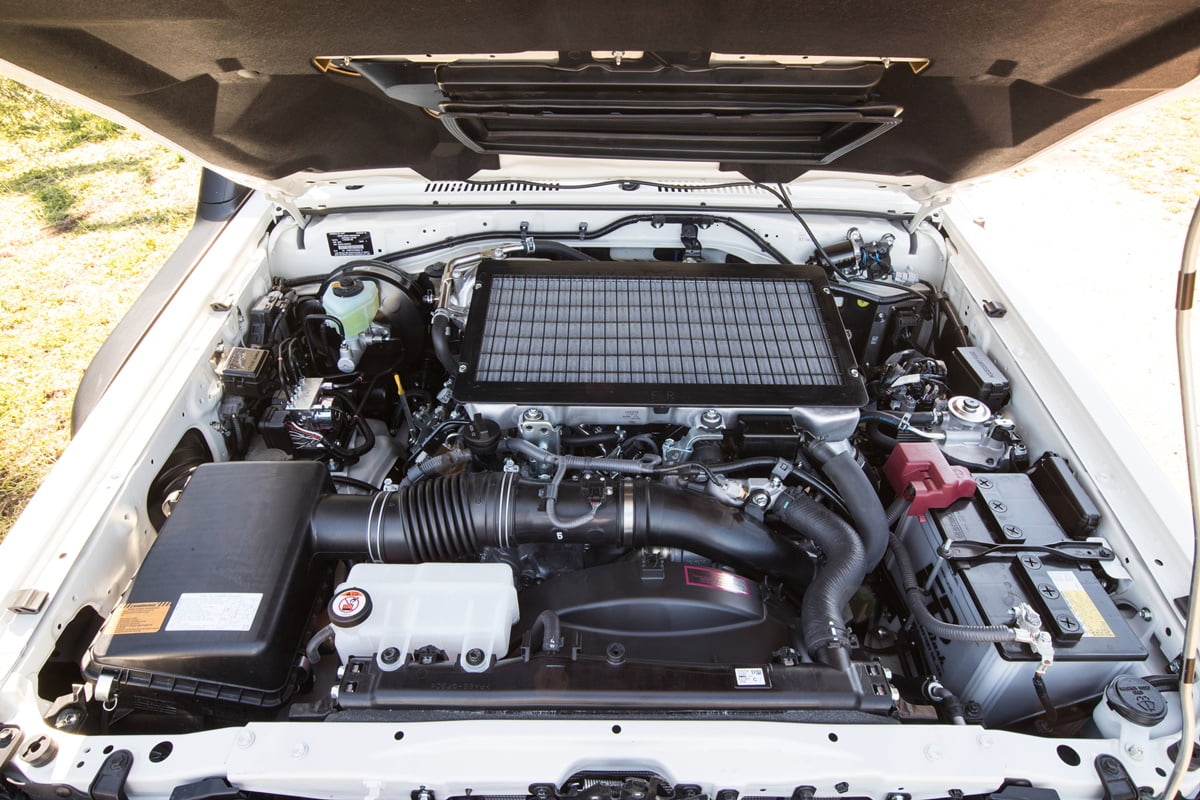 Toyota LC70 Dual Cab Ute Engine and Drivetrain
Today's LandCruiser 70 Series models are powered by a 32-valve 4.5-litre V8 turbo-diesel engine with improved with Piezza electric injectors and an intercooler.
The LC70 GXL 4.5L V8 TD engine produces 151kW @ 3400rpm of power and torque of 430Nm @ 1200-3200rpm running through a 5 speed manual transmission.
The latest version has a much higher 5th gear that allows better highway cruising.
The flat torque curve allows easy driving, with 5th gear useable from 50kmh around town through to 120kmh on the freeway. It also assistance with fuel economy, my real fuel usage was about 11.5L/100K over the 2500km.
The large bonnet bulge provides more cooling around the engine because the vehicle now has a diesel particulate filter as standard as part of the move to Euro 5 compliance. It offers automatic regeneration in normal driving or manual regeneration for situations where vehicles are driven at low speeds for extended periods, such as in mines.
Toyota LC70 Dual Cab Ute 4WD Capability and what it is like to drive.
There really is no need to discuss the 4WD ability of the LC70. It is superb. Unlike many of the more user friendly dual cab Utes on the market, the LC70 has a stick shift part-time 4WD with two-speed transfer case and automatic locking front hubs.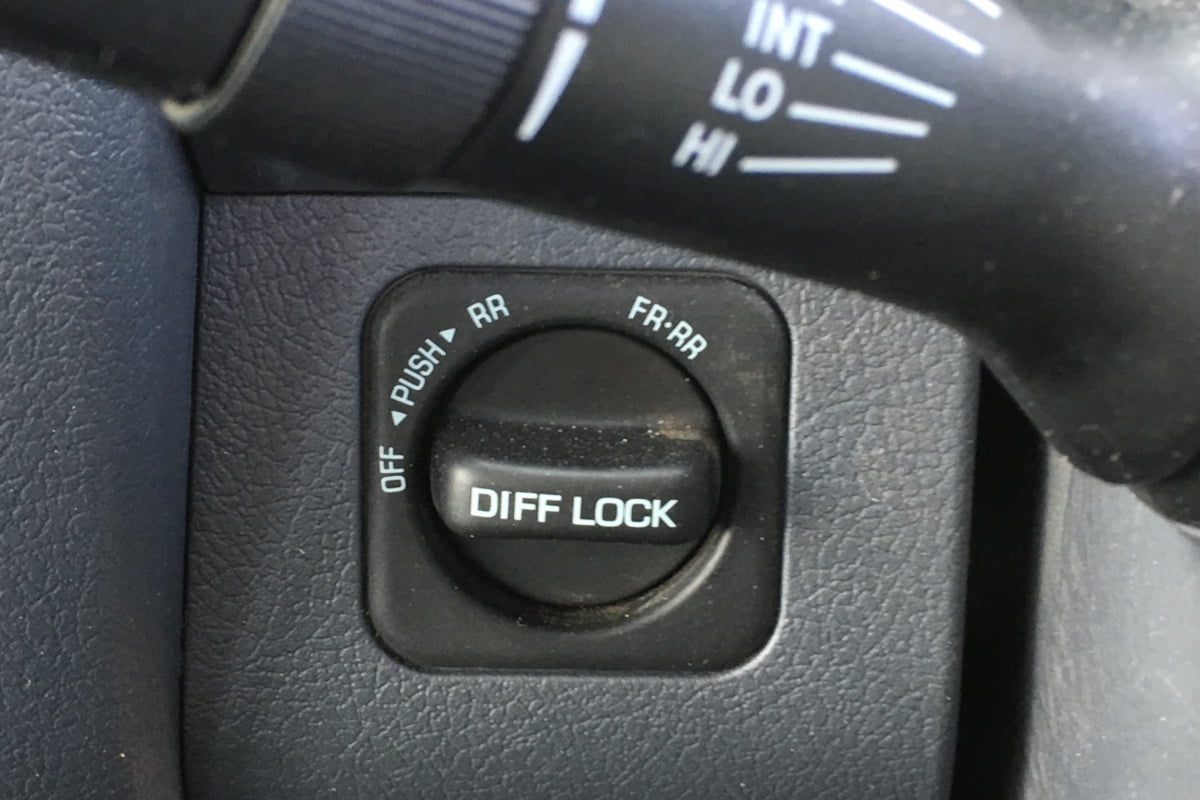 It is a bit unusual these days to actually shift a lever to engage 4WD. To improve the already substantial 4WD capability, there is a rear diff lock as standard.
Front suspension is a rigid live axle, leading arm, coil springs, telescopic dampers and anti-roll bar. The rear suspension is a rigid live axle, semi-elliptic leaf springs and telescopic dampers. What this means is that the suspension is designed for load carrying capacity and wheel articulation. Not for occupant comfort.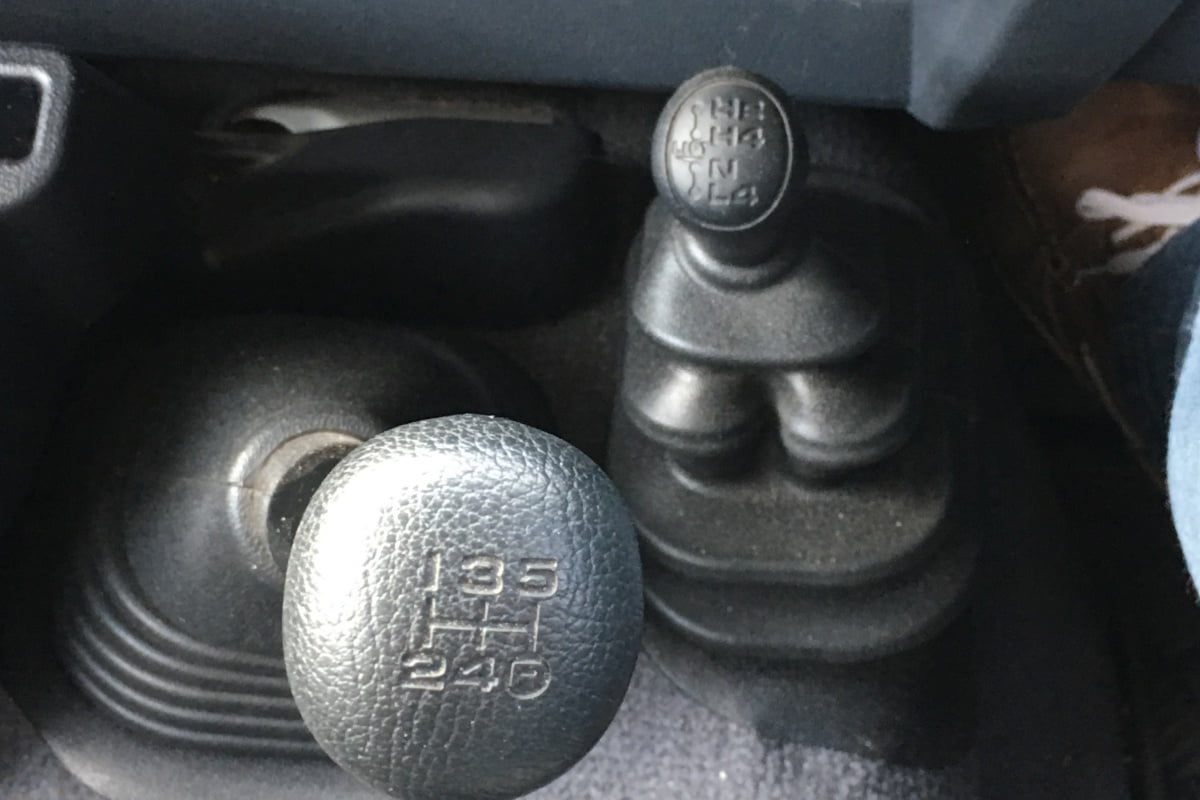 Over the two weeks I had the LC70 I drove over 2500km. This covered around town driving, freeway, country secondary roads, forest trails, beach and farm driving.
Around town the huge turning circle poses a daily problem, and requires a little thinking of where you go and a bit of pre planning. The lack of a reversing camera is a real problem.
On the freeway, the revised gearing allows more relaxed cruising, with 110kmh now about 2400rpm. There is still a fair amount of wind and road noise though and you couldn't say it was relaxed. A sixth gear would help.
Use of the Bluetooth or radio necessitates both to be turned up fairly loud, a fact borne out when you start the car and the radio blasts out.
The revised steering geometry certainly has improved the wandering issues of the previous model.
Secondary country roads were taken in stride without much grumble, but the difference in ride with a load on or empty was very noticeable.
As with all the LC 70 series vehicles, turn off the black top and head bush, to the beach or farm and the vehicle dynamics transform. Here the LC70 is king. Here the design shows the long history of Toyota designing vehicles that are capable, robust and practical in difficult terrain.
One benefit of the upright vehicle style is excellent visibility all around. However it takes some time to become used to where the rear end of the tray is and as mentioned, it could do with a reversing camera.
Again it always has been a good tow vehicle. While we didn't tow this time, we have previously and although we would prefer an auto, the LC70 tows with ease. The critical and unusual thing about the 70 series is that you can load the maximum towing capacity and pay load at the same time.  If you are towing at the limit in other four wheel drives this significantly reduces the payload you can carry in the tray.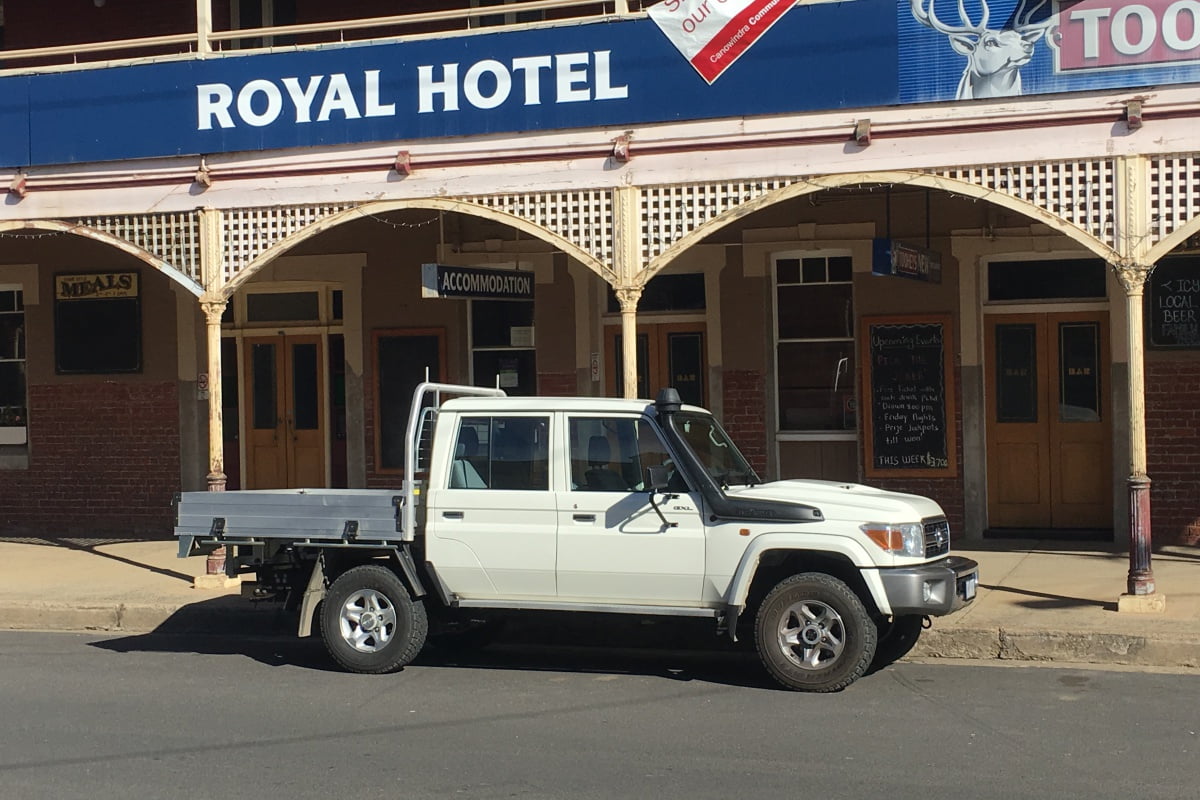 Toyota LC70 Dual Cab Ute Dimensions
The Toyota LC70 Dual Cab Ute has an
overall length of 5220 mm (depending on tray length),
wheelbase of 3180mm,
width of 1870mm and
Height of 1945mm.
Unladen ground clearance is 235mm.
Approach angle is 33 degrees, rampover is TBC and departure angle is 27 degrees.
Wading depth is 700mm
Turning circle is 14.4m
GVM of 3300kg, GCM of 6800,
Kerb mass of 2175kg and Payload of 1125kg.
Towing capacity is 3500kg and tow ball rating is up to 350kg.

Toyota LC70 Dual Cab Ute Safety
Safety is an ever moving feature on cars and more importantly Utes. The LC70 single cab Ute has a 5 star ANCAP safety rating but the dual cab Ute doesn't.
It does however have improved safety features. These include:
Anti-lock Braking System (ABS)
Side door impact protection beams
Energy-absorbing steering column
Door ajar warning lamp
Driver seatbelt warning lamp
Driver and front passenger airbags
Brake Assist
Vehicle Stability Control (VSC),
Hill-start Assist Control (HAC),
Electronic Brake-force Distribution and
Active Traction Control (A-TRAC)
Toyota LC70 Dual Cab Ute Fit for Purpose
How do you assess the fit for purpose of a vehicle that is asked to do everything?
As a family run around the LC70 Dual Cab Ute is better than most in the rear for leg and knee room for passengers. Having 4 adults is a little cramped. The issue here is that you need at least a tonneau cover or preferably hard lid for the luggage.
It is longer than a SUV for shopping centres and doing the school run or soccer run it has more limited seating. It is a nightmare in tight shopping centre carparks for both the huge turning circle, lack of reversing camera and height restrictions.
As a work Ute, it is at home. It is designed to work hard, take a large payload, tow heavy trailers and keep doing it year after year. I have a friend on a farm who has an old LC70 Ute that has some 400,000k on it, it is beat up and still never misses a beat.
As a recreational 4WD vehicle to be honest there are better choices. It will do everything required, but with a modicum of comfort.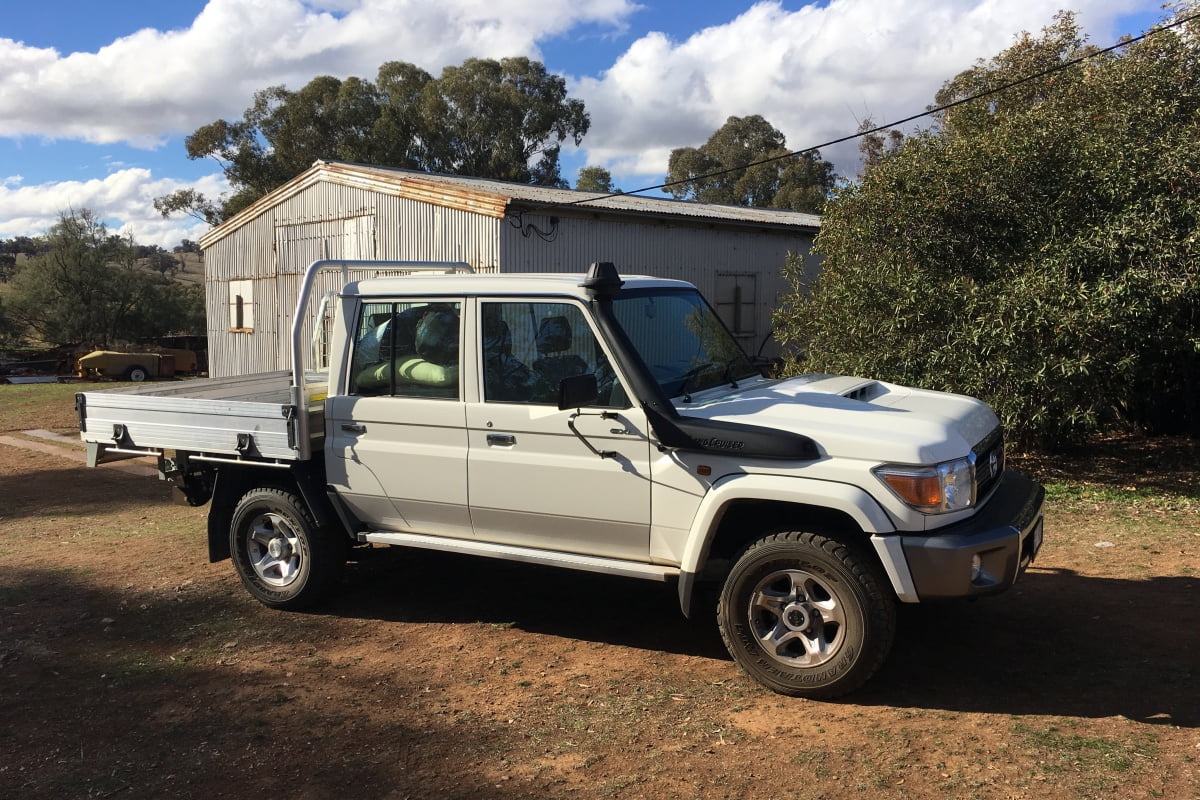 Toyota LC70 Dual Cab Ute Summary
In today's market there really isn't a direct competitor for the single cab LC 70 Dual Cab Ute. Buyers will either opt for one of the smaller size Utes like the Colorado or Hilux size, or go for the more truck variant like the Hino 300 4×4 series or one of the American Pick-Up trucks like the Ram 1500 or Ford F250 etc.
The LC 70 is extremely popular with buyers in mining, agriculture, construction, and communications support and recreation industries. They value the almost indestructible nature of the ubiquitous LC 70.
I have friends on farms that have LandCruiser Utes that are 20 years plus old, have been belted beyond recognition in everyday use and still keep going strong.
The LC 70 has a rightly deserved unrivalled reputation for class-leading mechanical reliability and serious towing, load carrying and off-road performance.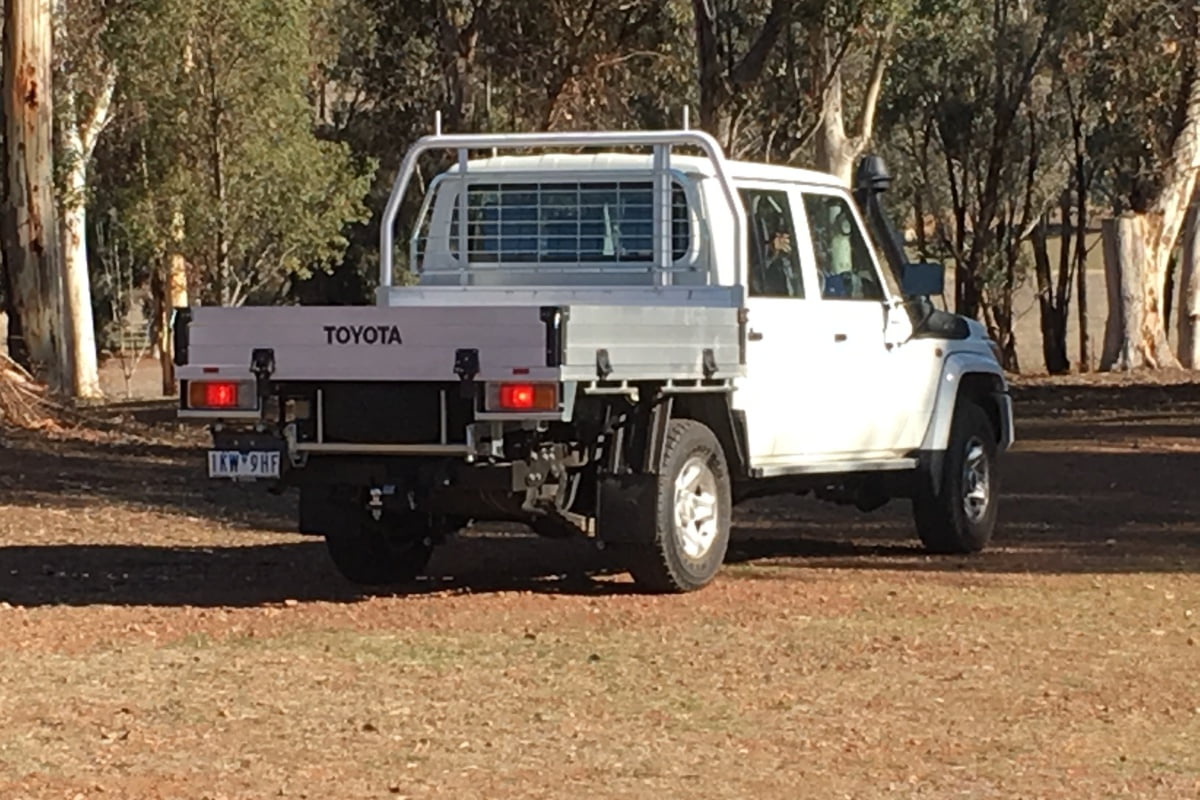 What is good?
Towing ability
Robust reliability
4WD ability
 What is not so good?
Missing some safety items
MT is good but needs a 6th gear or AT
No reverse camera
Model: 
Toyota LC70 Dual Cab Ute 4WD
Model Price       $77,952 RDAP
Engine                 4.5L V8 Diesel Turbo
Drivetrain           5 Sp MT 4WD
Power                 151kW @ 3,400rpm
Torque                430Nm @ 1200rpm
Safety                  TBC
CO2                     281g/km
Economy ADR   10.7 L/100 km
Servicing             Capped Price
Tow Rating         3,500 kg
Tow Ball Rating 350 kg
Warranty           3 Yrs. / 100,000 km 3 Yrs. Roadside Assist
Overall Rating: 83/100
Behind the Wheel           7
Comfort                            7
Equipment                       7
Performance                    8
Ride & Handling              8
Practicality                        9
Fit for Purpose                10
Towing Ability                  10
Off Road Ability               10
Value for Money             7