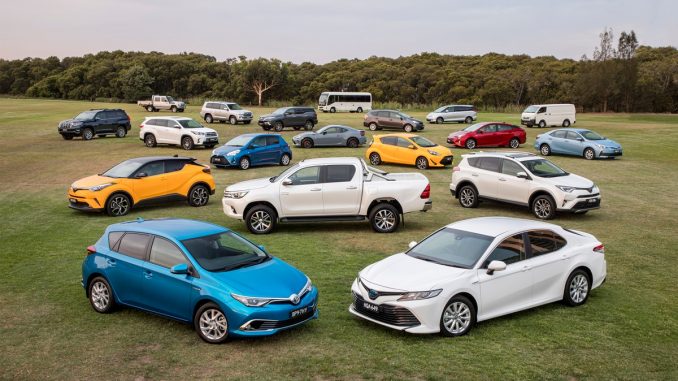 Toyota sales records tumbled as traditionally strong sales in the final month of the financial year saw the brand maintain its leading position as Australia's best-selling marque.
With a total of 23,171 sales in June, accounting for 17.7 per cent of the total market, sales of Toyota passenger cars, SUVs and LCVs for the month were more than the combined total of the next two best-selling brands.
For the six months to the end of June, total Toyota sales reached 111,854, its best year-to-date sales since 2008, giving the company an 18.5 per cent share of the total market.
Toyota Australia vice president sales and marketing Sean Hanley said while HiLux maintained its position as the country's best-selling vehicle, strong sales in many vehicle segments contributed to the best half-yearly sales result in a decade.
"June was a typically strong month for Toyota but it wasn't only booming HiLux sales that contributed to the result, with Kluger, RAV4 and C-HR all recording best ever monthly sales figures," Mr Hanley said.
"In the passenger car market, Corolla continues to hold its ground as the best-selling passenger car with 3780 sales in June ahead of the all-new hatch model arriving in August. Camry too leads its segment with sales of hybrid models up 31.9 per cent compared to June last year and now account for 41 per cent of all Camry sales.
"We expect second half year sales will continue to see growth in Toyota sales and market share," he said.
For June, total Toyota passenger car sales reached 6442 contributing to a year-to date total of 33,105 units, giving Toyota a market leading share of 16.2 per cent of the passenger car market.
Reflecting the overall market trend however, it is SUV and LCV sales that are driving the growth with Toyota's June SUV sales reaching an all-time monthly record of 8613, up 8.7 per cent on June last year.
In the SUV market, RAV4 (2690 units), Kluger (1757 units) and C-HR (915 units) all broke monthly sales records with increases over the previous June result of 9.3 per cent, 20 per cent and 85 per cent respectively.
As Australia's best-selling vehicle, HiLux also a recorded a best ever monthly sales total of 5787 with 4×4 models making up the lion's share totalling 4032 sales – another record monthly figure. HiLux 4×2 was the best-selling vehicle in its segment with sales for June up 15.2 per cent on the same month last year to 1755.
Toyota's tough as nails LandCruiser 70 Series is continuing to find even greater appeal as well with sales hitting a 20-year monthly high of 1311, up 31.5 per cent on June last year.