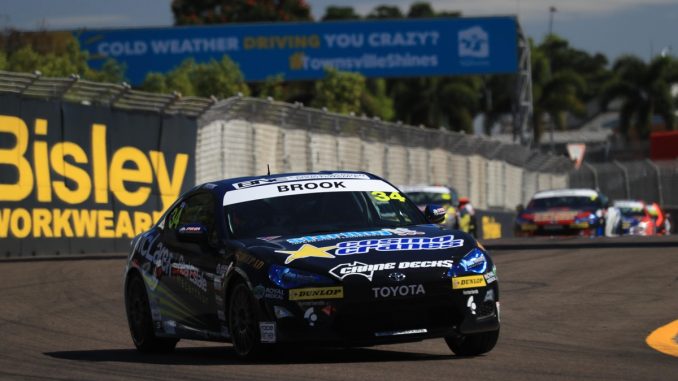 Tim Brook topped off a perfect weekend at the Watpak Townsville 400 to take the chequered flag in all three races in the Toyota 86 Racing Series.
After securing pole and a win in Race 4 on Saturday, a repeat performance on Sunday saw Brook in the McLaren Real Estate 86 win both Race 5 and Race 6 with a clear margin of more than 1.4 seconds in both races.
With the leaders three-wide into the first couple of turns, Brook turned on the pace to lead both races from start to finish ahead of Luke King in the AISIN Products car who also repeated his performance of Saturday, taking second place on the podium in both races.
Cameron Crick in the Clintons Toyota/Plus Fitness car also followed up his third place in Saturday's race scoring the same in Sunday morning's Race 5.
But a tight battle with Jake Klein in the PK Transport/Aussie Driver Search Toyota 86 through laps eight and nine in Race 6 saw Crick run wide on turn two allowing Klein to pass through and take third spot in the final 86 race of the weekend.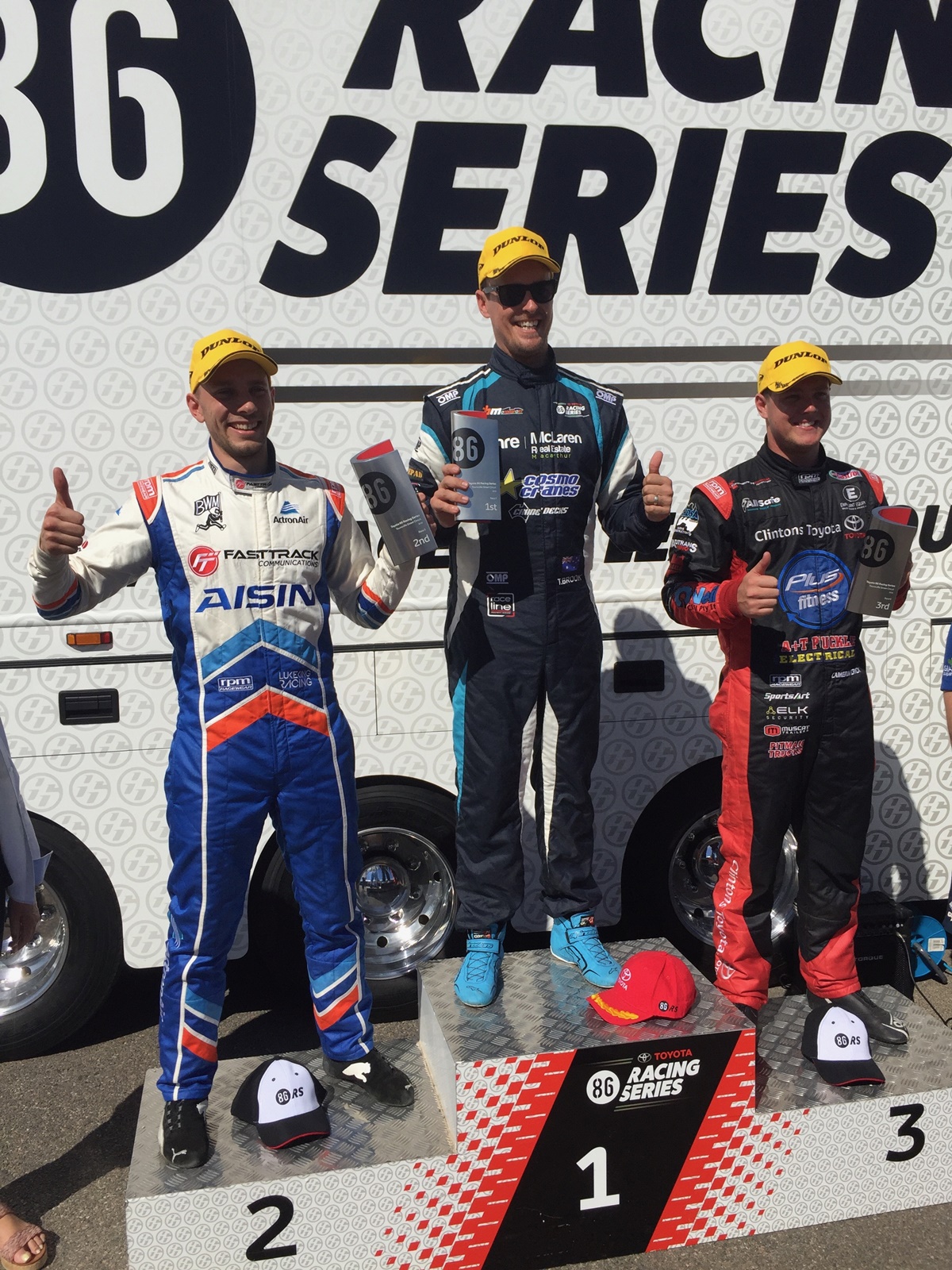 Capping off a weekend of firsts, Brook said it didn't get much better.
"I couldn't be happier. I'm speechless and I don't think it has fully sunk in. We have worked hard and to have it all pay off with a clean sweep is a mega effort," Brook said.
"The car's been great, there was only one session in practice that we finished second and in every other session we have been at the top."
In Sunday morning's Race 5, Brook was one of six drivers that beat the Townsville lap record he had set the day before with fourth placed driver Jake Klein setting a new lap record of 1:29.5376 on lap 3.
Dylan Thomas in the Hi-Tec Oils/CXC/CGR Performance car rounded out the top five in Race 5 before climbing another spot to finish in fourth place in Race 6.
Broc Feeney, the young 15-year-old Queenslander had a superb drive in Race 6 starting from 8th on the grid to take his first top five finish and best result for the season, crossing the line in fifth spot.
The clean sweep for Brook gives him a clear lead of the series after six races following a disastrous Race 4 for previous series leader Liam McAdam that saw him start Sunday's Race 5 from the tail end of the grid in 30th slot.
A solid drive meant he was able to climb 13 places to finish in 17th in Race 5 gaining a further two places in the afternoon's Race 6, to finish in 15th.
Warren Luff – who together with fellow invited driver Steve Owen drove the Toyota Racing Australia 86s – had also kicked off the weekend with DNF in Saturday's Race 4. Consequently, Luff started from the back row in Race 5 but clawed back 12 positions to finish in 20th, before crossing the finish line in the same spot in Race 6.
But despite finishing well down the run, he said it was a lot of fun and was pleased to be able to be part of the mentoring aspect of the race series.
"I made the joke yesterday it would be fun to start off at the rear of the field and I got my wish," Luff said.
"It was really enjoyable and full credit to the guys at Neal Bates Motorsport and everyone from Toyota to make it possible to get the car back out there this morning.
"Being here as a mentor, it's good when you can race against all the guys and girls in the series and actually see what they are doing, and to be able to help them and impart some knowledge.
"The standout thing in this series is the mentoring program that is put in place for all the drivers in having Jason Bargwanna here and the two invited drivers for each race as it gives all the competitors the chance to draw on their years of experience.
"And you can see this weekend, we had three clean races, there were no safety cars, and no red flags so it really is a credit to all the competitors and Toyota and the mentoring system that they have in place."
With six races down, Brook is at the top of the leaderboard on 548 points, 42 ahead of second-placed Luke King with Cameron Crick in third on 434 points. Jake Klein and Jaylyn Robotham round out the top five.
McAdam has now slipped to seventh behind Cam Walton in the driver standings and ahead of Dylan Thomas, Ben Grice and Nic Carroll who make up the top ten.
The 86 racing action now heads to The Bend Motorsport Park in South Australia on August 24-26.
Race 5 results:
1. Tim Brook
2. Luke King
3. Cameron Crick
Race 6 results:
1. Tim Brook
2. Luke King
3. Jake Klein
THE TOYOTA 86 RACING SERIES
The Toyota 86 Racing Series is designed to provide an entry point and training ground for up-and-coming drivers, offering a confirmed prize pool of $150,000.
Top-three place rewards for the year are $50,000, $30,000 and $15,000. The coveted Kaizen Award for continuous improvement now includes prizes valued up to $35,000 including a fully funded trip to compete in a round of New Zealand's 86 racing series. The entry fee is unchanged at $1,500 per round.
Open to variants of Toyota's cult-classic sports car, the series is part of the support program at selected rounds of the Virgin Australia Supercars Championship.
In 2018, the Toyota 86 Racing Series is being run over six events: Phillip Island 500 (April 20-22), Townsville 400 (July 6-8), The Bend Supersprint (August 24-26), Sandown 500 (September 14-16), Bathurst 1000 (October 4-7) and Newcastle 500 (November 23-25).
For regular updates and more information go to https://toyota.com.au/86/racing-series.