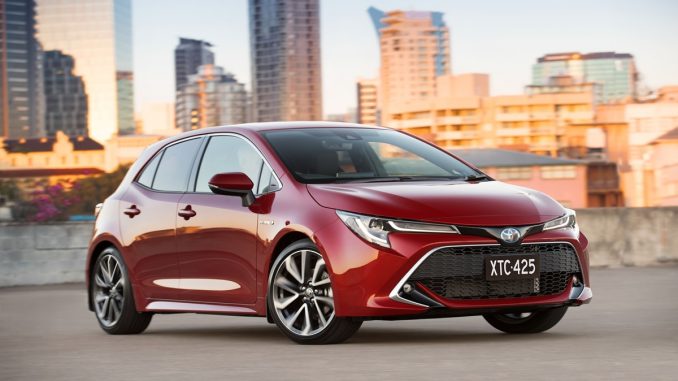 The one car that is most responsible for establishing Toyotas reputation indeed perhaps the entire Japanese automobile industry reputation for solid construction, reliability, efficiency and practicality is the Toyota Corolla
The sales figures prove that.
Since its release in the second half of 1966, Toyota has sold 45 million Corollas, which represents and average figure of one car every 36 seconds, every hour of the day and every day of the year for nearly 52 years and they are still going strong.
Toyota has just launched in Australia the 12th generation Corolla, a hatchback with a large number of new features.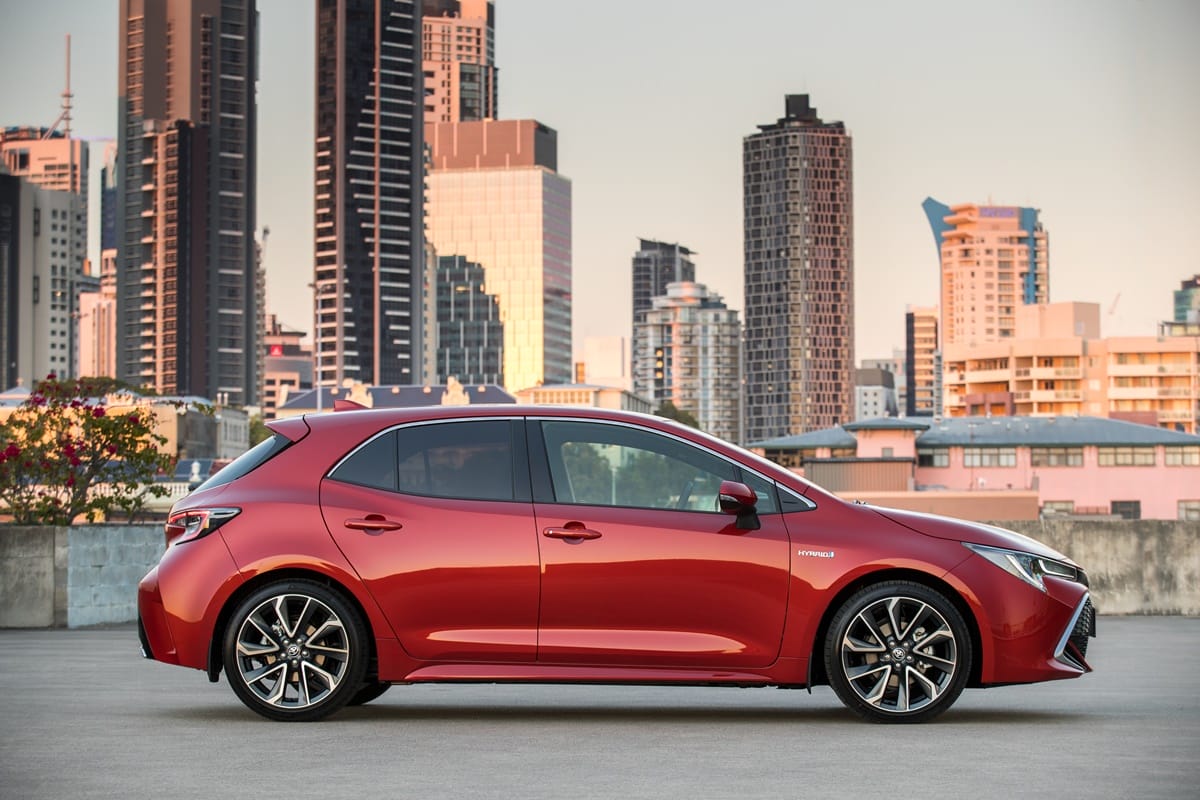 2018 Toyota Corolla Exterior
Toyotas have not been known for their elegant style. They now have a corporate objective of "not building any more boring cars". They tried hard, perhaps too hard, with their compact SUV the CH-R.
But this new Corolla is a triumph with a vehicle that looks like it was design with a clean sheet of paper and a focus on style as the first priority.
At the back it has a rear bumper that protrudes a little more than normal giving the feel of a lady's bustle.  The side starts high and slopes down to a bonnet that is shorter and lower at the front.  Quite a few other cars are going for the longer nose but the shorter snout on Corolla, particularly as it drops towards the front gives is a chiselled into the road appearance.
It is 40mm lower, 30mm wider and 45mm longer and the immediate impression is that it sits low on the ground.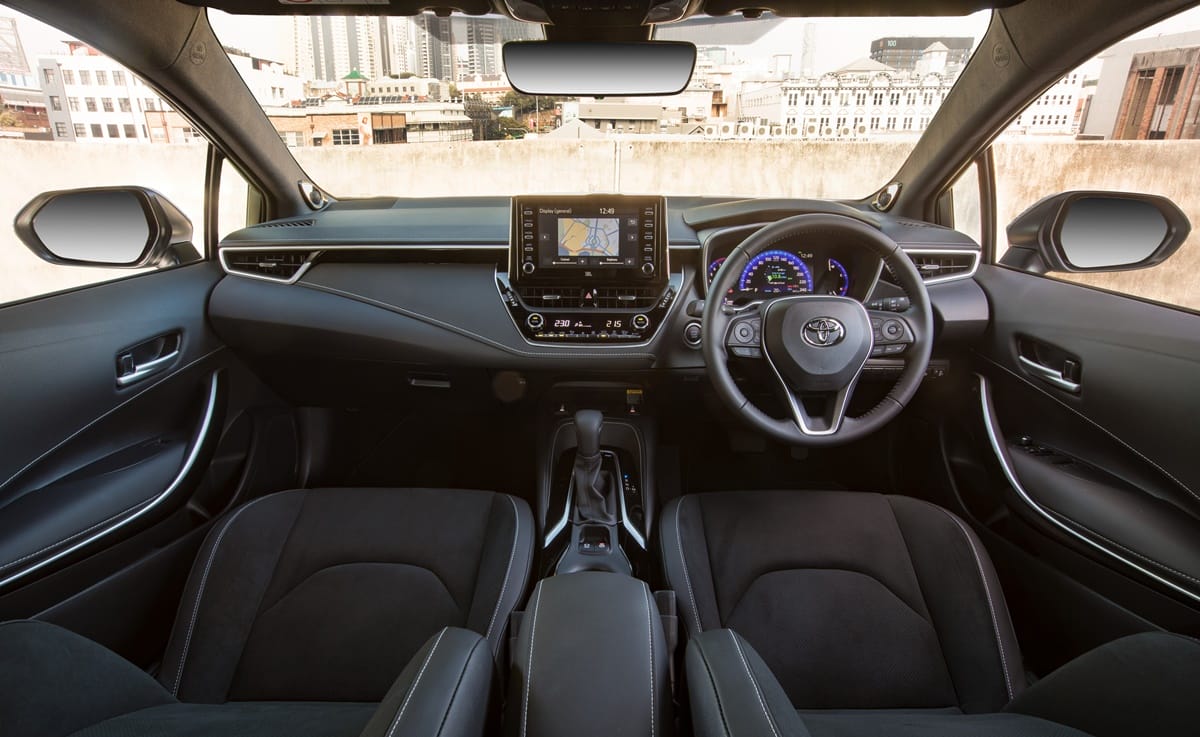 2018 Toyota Corolla Interior
While the seating is comfortable for the driver and front passenger, if you have the seats well back there is little leg room for the rear passengers.
The boot area is also small being a little over 200 litres for the base model Ascent Sport and the middle range SX but increases to a bit over 300 litres (actual figures do not appear in the Toyota material unsurprisingly) in the top of the line XR because with its larger 18 inch wheels in does not carry a spare so they drop the level of the floor in the boot.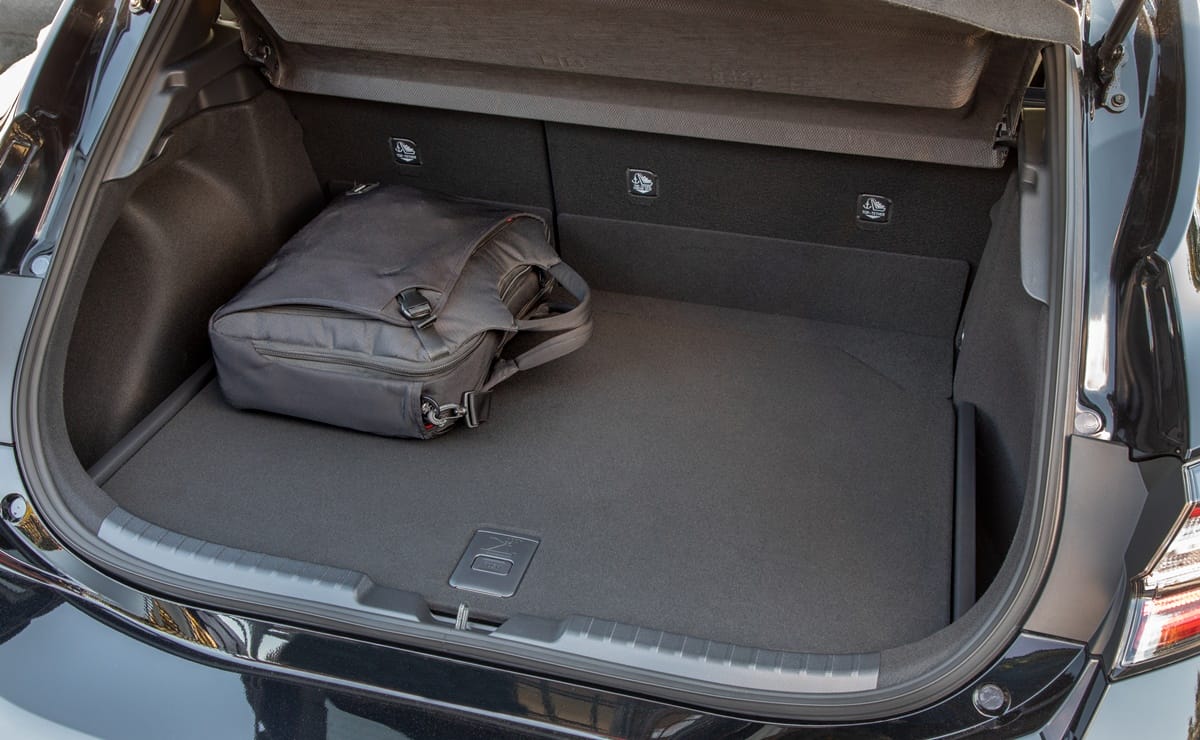 The dash layout is more squarish than flowing in style and looks rather plain in the base model but in the top of range ZR it has visible stitching in some rather flowing lines.
Directly in front of the driver the Ascent Sport and SX petrol models have an analogue-style speedometer with a tacho on the left and a 4.2-inch Multi-Info Display (MID) on the right. The information on the right is tucked away and is hard to read.  You need to look hard to find things like the trip metre and the current speed limit.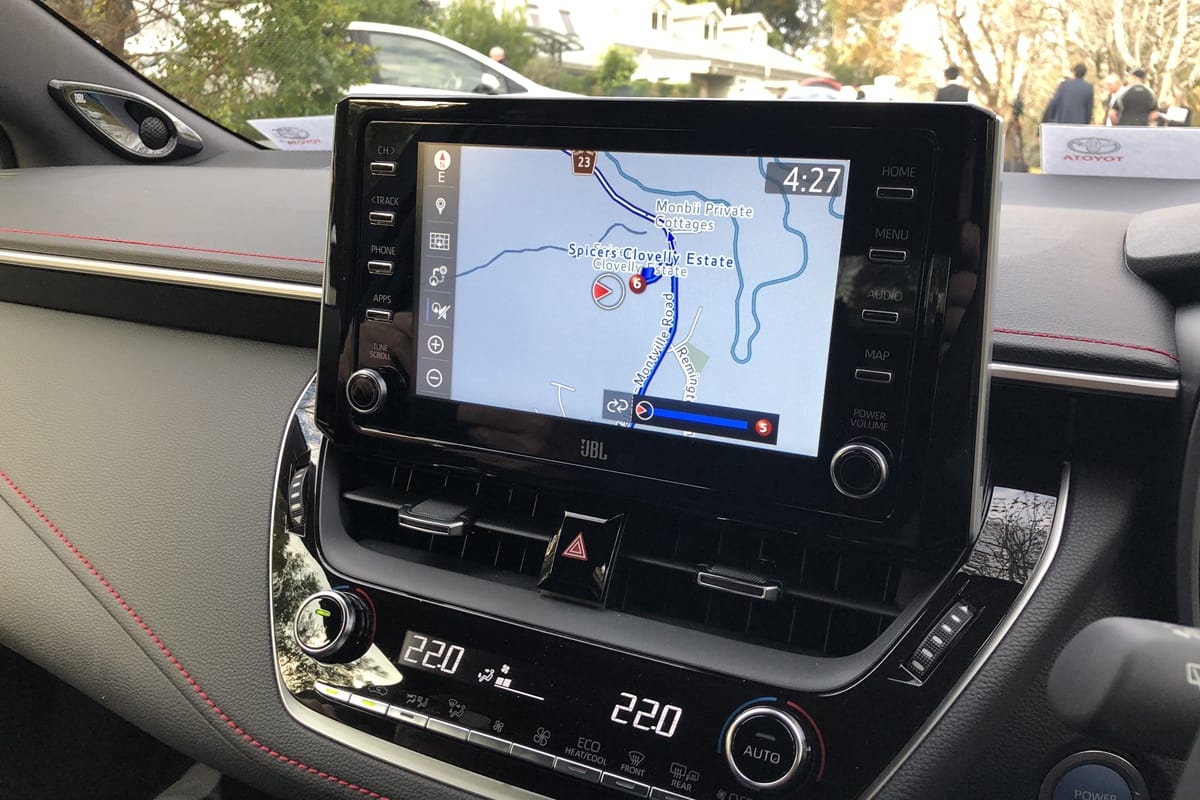 The top-of-the-range ZR petrol model and all hybrid variants put the tacho on the left and fuel/temperatures gauges on either side.  In the centre on a larger 7-inch MID is a speedo and other information which is more visible and presented with more colour but it is a little too much graphic design and not quite enough boring clarity.
2018 Toyota Corolla Engine and Drivetrain
For non-hybrid models, the new two litre petrol engine is a significant improvement with an extra 21% more power (125kW @ 6600rpm) and 15% more torque (200Nm @ 4400rpm – 4800rpm).  It's not turbo-ed so you have to rev it to get to those figures.  Fortunately, it is red-lined at 7,000 rpm and does not get too wheezy as you take it to the limit.
It comes with a CVT gear box or a six-speed manual gear box. I drove the six speed about 150 km and it was smooth and easy to use.  It gave you a good feeling of working with the car. CVTs do not have the same effect.
The vagueness of the CVT with no direct relationship between the revs of the engine and the speed you are traveling is somewhat alleviated with a clever system from Toyota.  When you start off (a time when you hear the engine more) the car locks into a fix ratio as a first gear.  If you don't like the typically CVT for the rest of the time, the gearbox has a total of ten ratio settings that you can drive like an automatic or dual clutch using the paddles on the steering wheel.
As is an increasing trend, the CVT gearbox gets a better rated fuel consumption at 6.0 l/100 while the manual is marginally poorer at 6.3 l/100.
Most significantly there is a hybrid option of all three variates.  They have a 1.8 litre petrol engine with 72kW @ 5200rpm and 142Nm @ 3600rpm. The combined power with the electric motor is 90 kW.
Clear the hybrid is not aimed at being a performance car with the engine red-lined at 5,500 rpm for good efficiency.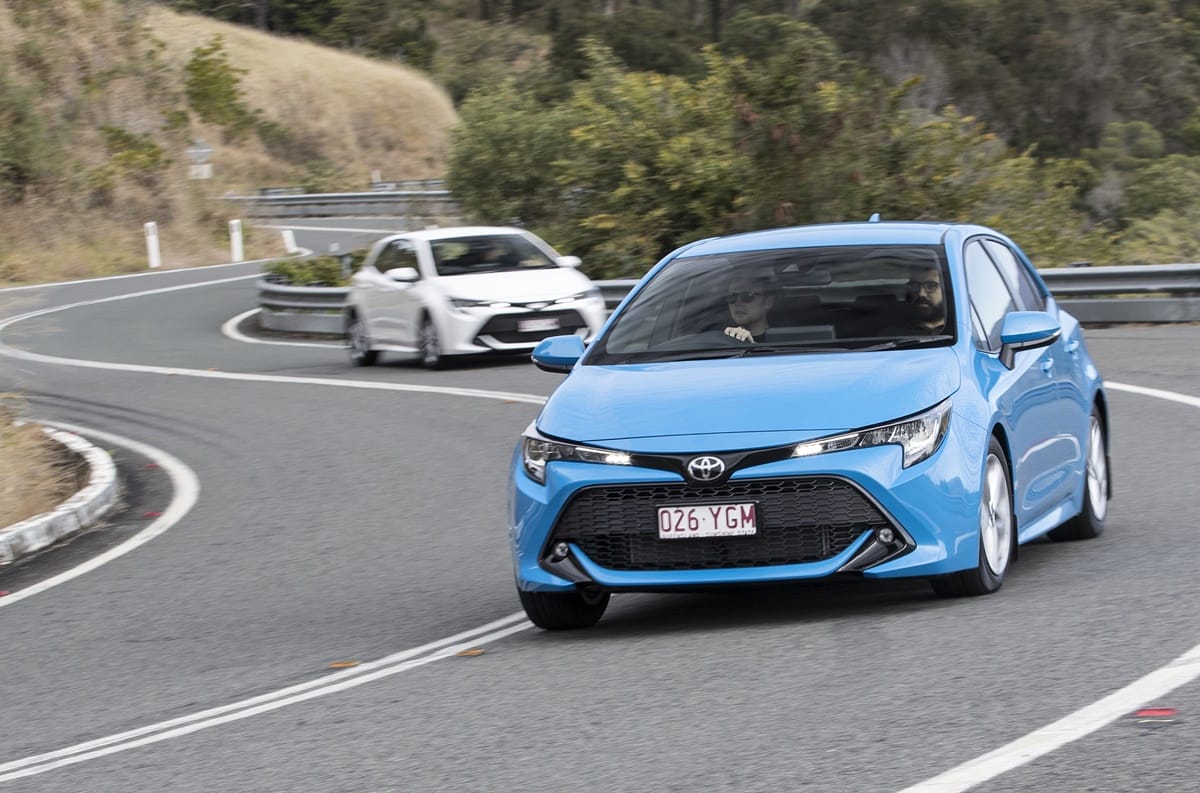 2018 Toyota Corolla Ride and handling
It drives very well with a quietness and an ease of control.  It holds onto the road with comfort and grip and doesn't turn in to corners with the sharp, aggressiveness of a sports car which is quite appropriate but if the corner tightens up it hangs on well.
They say it has a new system to apply brakes to either front wheel as necessary to reduce understeer.  I asked the Chief Engineer of the car from Japan what extra benefit is this to the standard Electric Stability Control?  He answered politely and with some jargon but I still don't understand.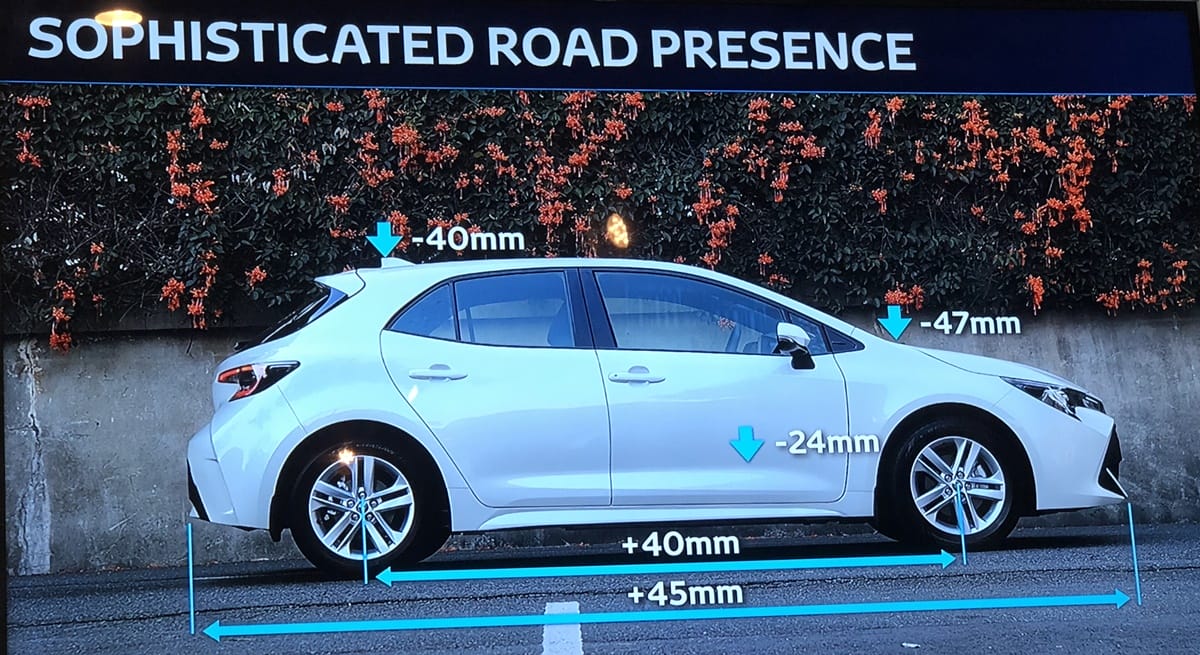 2018 Toyota Corolla Safety
There are many safety features and the most credibile thing is that nearly all are standard across the range.  The base model Ascent Sport gets
Pre-collision safety system (AEB) with pedestrian (day/night) and cyclist detection (day)
All-speed active cruise control (CVT)
High-speed active cruise control (MT)
Lane trace assist with steering assist and lane centring function (CVT)
Lane departure alert with steering assist
Road sign assist (speed signs)
ABS with brake assist, vehicle stability control, active cornering control
7 airbags
Reversing camera
ISOFIX child restraint anchors
You do have to go to the middle spec SX to get blind spot monitoring and the top spec ZR to get head-up display.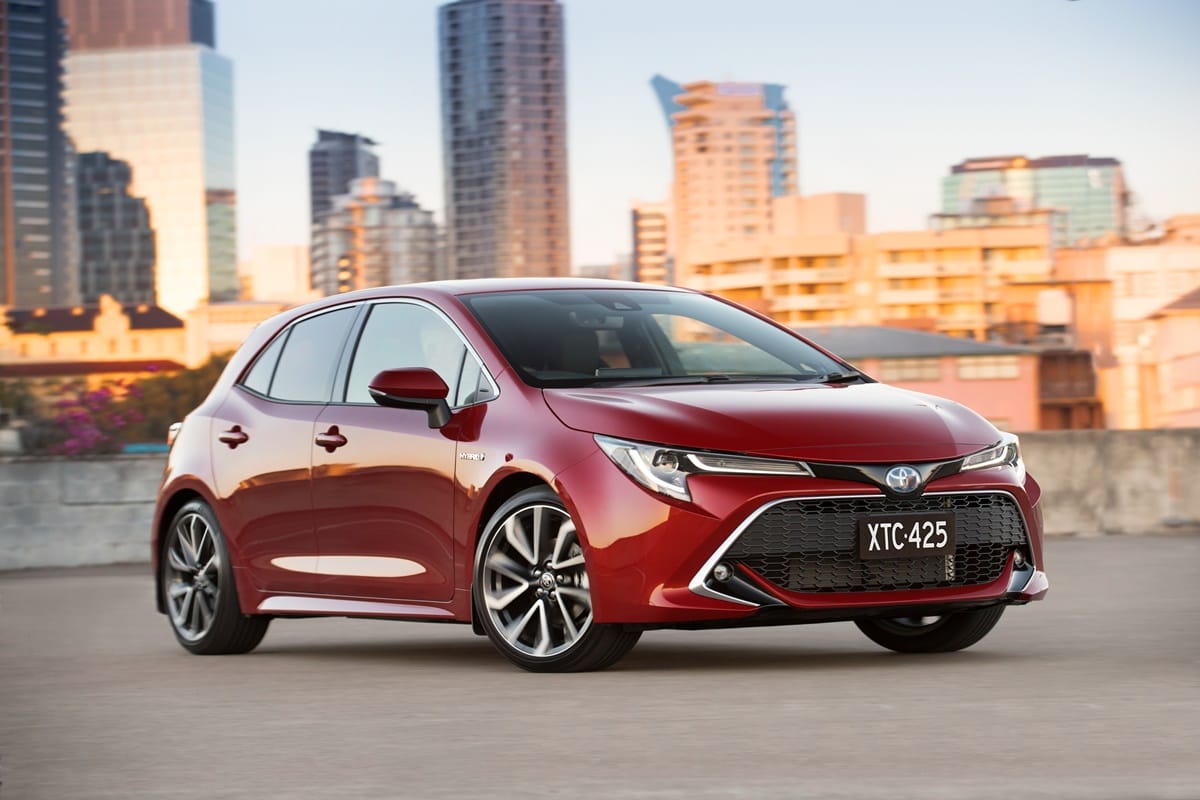 2018 Toyota Corolla Prices
Toyota have reduced the number of variants from four to three so the entry level price is not the cheapest in the market.
Ascent Sport petrol manual $22,870
SX petrol CVT $26,870
ZR petrol CVT $30,370 ZR
The base model Ascent sport is the only one with a manual gearbox so you have to add $1,500 for a CVT (Automatic) and $1,000 for sat nav which is standard in other models.  In all cases the hybrid option is another $1,500.
All prices are recommended retail so you will have to add dealer delivery and statutory charges and an additional $450 for metallic paint.
2018 Toyota Corolla Summary
The 2018 Toyota Corolla is an impressive car that raises the bar in a quite a number of key areas including style, power, handling and safety features.  As a hatchback it is compromised in space inside but a sedan which will come later could help this.
It's not the cheapest and it is really a car that would suit one or two people, but it will sell well.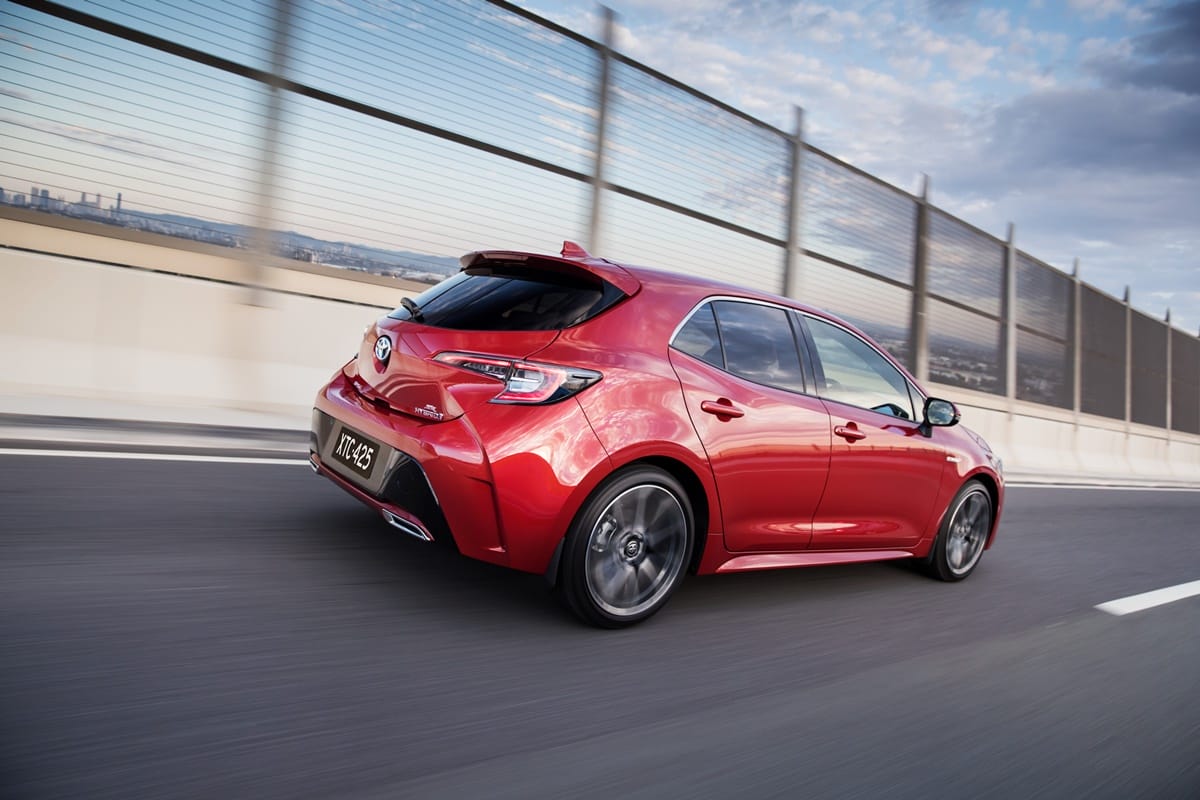 What's Good?
Stylish looks
Safety features
Hybrid availability on all variants
What's Not So Good?
Space for rear passengers
Boot space
Initial price although CVT and hybrid are value options
Model: 2018 Corolla ZR Hybrid
Model Price:      $31,870 RDAP
Engine:               2.0L 4 Cyl petrol
Drivetrain: CVT
Power petrol engine:  72kW @ 5200rpm
Torque: 142Nm @ 3600rpm
Combined power with electric motor: 90 kW
Safety:  Not yet tested
CO2 Emissions: 97 g/km
Economy: 6.0 L/100km (ADR comb)
Servicing: 3Yrs capped price
Warranty: 3yr/100,000 km
Overall Rating 82/100
Behind the Wheel           9
Comfort              9
Equipment         10
Performance     8
Ride & Handling              9
Practicality         6
Fit for Purpose  7
Prestige Appeal 9
Fun Factor          8
Value for Money             7