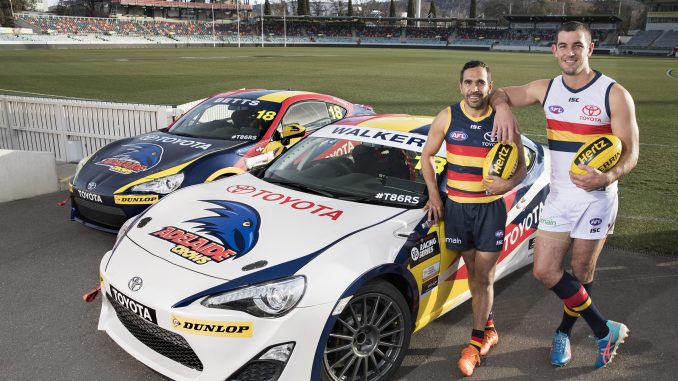 86 Racing Series debuts in South Australia at The Bend 
36 cars to line up on the grid for three races over the weekend
Invited drivers to run under Adelaide Crows colours
Toyota 86 Racing Series heads to South Australia for the first time since the series began in 2016 when a field of Toyota 86s line up on the grid at The Bend Motorsport Park on August 24-26.
Series leader Tim Brook will be aiming to maintain his overall lead of the series after taking a clean sweep in all three races at the last round run on the street circuit in Townsville in early July.
Brook said the team had already tested at The Bend and was looking forward to a thrilling weekend of racing.
"We are very excited, it's a great venue as you would expect being a new facility, and it should provide some pretty good racing," he said.
The Bend is Australia's newest purpose-built racing circuit with a field of 36 race-tuned 86s set to battle it out on the 4.95km track as a support category to the Supercars SuperSprint event.
Toyota chief marketing officer Wayne Gabriel said it was fantastic to have a brand-new facility like The Bend now operating in South Australia to deliver all the excitement of the Toyota one-make series to a broader base of motorsport fans.
"The 86 series is all about offering aspiring race drivers and talented amateurs a grass-roots, affordable racing series that pits drivers of all ages and experience against each other in tight competition.
"With the opening of The Bend, we can now bring that to South Australian fans who can witness all the live action and maybe be inspired to get involved, with Toyota committed to running the series until 2020," Mr Gabriel said.
This will be the first 86 Racing Series event at the circuit, located about 100km south east of Adelaide near Tailem Bend, and promises plenty of excitement with cars tackling the 18 corners and fast straights of the International Circuit.
Lining up against Brook will be second-placed Luke King and current third place holder Cameron Crick, along with a field of talented weekend racers and up and coming stars of the future.
Also on the grid will be two invited professional drivers in kiwi Chris Pither and Supercars veteran, Jason Bright who has more than 250 championship starts to his name.
Pither, Bright and series mentor Jason Bargwanna will be on hand to impart their knowledge and experience to all drivers with the former two aiming to demonstrate that on the track.
Pither and Bright will be racing under the Toyota Racing Australia team in a pair of cars specially wrapped with Adelaide Crows livery to celebrate the 86 Racing Series' South Australian debut.
The two cars will feature the home and away colours of the Toyota-sponsored Crows running under the names of captain Taylor "Tex" Walker and Eddie Betts.
Walker and Betts might be in Melbourne playing out their own battle at Etihad Stadium over the weekend but their surrogate drivers in Bright and Pither will be channelling their spirit hoping to drive the Crows to glory on track and field.
THE TOYOTA 86 RACING SERIES
The Toyota 86 Racing Series is designed to provide an entry point and training ground for up-and-coming drivers, offering a confirmed prize pool of $150,000.
Top-three place rewards for the year are $50,000, $30,000 and $15,000. The coveted Kaizen Award for continuous improvement now includes prizes valued up to $35,000 including a fully funded trip to compete in a round of New Zealand's 86 racing series. The entry fee is unchanged at $1,500 per round.
Open to variants of Toyota's cult-classic sports car, the series is part of the support program at selected rounds of the Virgin Australia Supercars Championship.
In 2018, the Toyota 86 Racing Series is being run over six events: Phillip Island 500 (April 20-22), Townsville 400 (July 6-8), The Bend Supersprint (August 24-26), Sandown 500 (September 14-16), Bathurst 1000 (October 4-7) and Newcastle 500 (November 23-25).
For regular updates and more information go to https://toyota.com.au/86/racing-series.