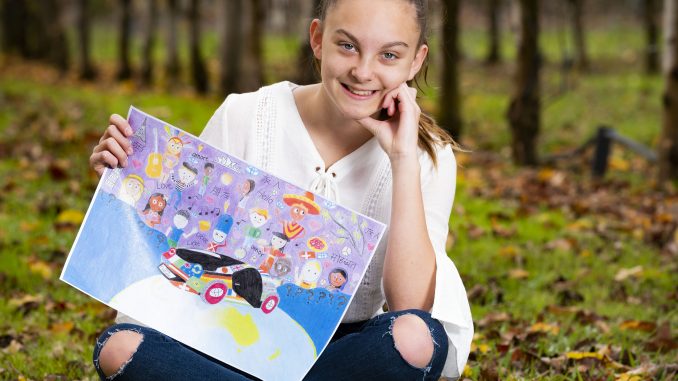 WA ARTIST DARES TO DREAM… AND WINS
Georgia Fields just one of 30 World Winners in global art competition 
Worldwide contest drew 650,000 entries from children in 76 countries 
Georgia's "The Cultural Understanding Car" aims to reduce global conflict **
Budding 12-year-old West Australian artist Georgia Fields will be off to Japan later this month after being judged a winner in the 12th Toyota Dream Car Art Contest.
Georgia's drawing of "The Cultural Understanding Car" was selected from over 4000 Australian entries with some 650,000 submitted by children in 76 countries around the world. She is just one of 30 global winners who won a four-day trip to Japan.
Previously a finalist in the Australian contest in 2016, Georgia said she was shocked when told she was one of just 10 World Winners in her age category.
"I was in shock because I didn't think I would become a finalist again in the contest so it was amazing to win," she said.
The annual contest invites children from all corners of the globe to share ideas about the future of mobility by drawing their dream cars.
Georgia said her drawing was inspired by her concerns about the level of global conflict.
"There is a lot of fighting and conflict that I have seen on the news around the world and I thought it would be a good idea to draw a car that would fix that," she said.
Georgia's idea was for a "Cultural Understanding Car" that could identify a person or group of people and tell the driver about their country, heritage, lifestyle, beliefs and religion.
She said the driver would then have a better understanding of other people and their culture.
"If there is a better understanding of one another, I think the world would be a happier place with less conflict," she said.
As a global winner, Georgia was awarded a four-day trip to Japan that includes a tour of a Toyota factory and awards presentation.
"I am looking forward to the Toyota factory tour and another big thing is seeing the Japanese culture," she said.
As well as giving Georgia a better understanding of a different culture, the trip may also inspire her future artwork.
"In my spare time one of my hobbies is art and I enjoy entering competitions to express what I have and let my imagination go wild," Georgia said.
"I have never been out of Australia so going to Japan will be amazing for me – a whole different experience."