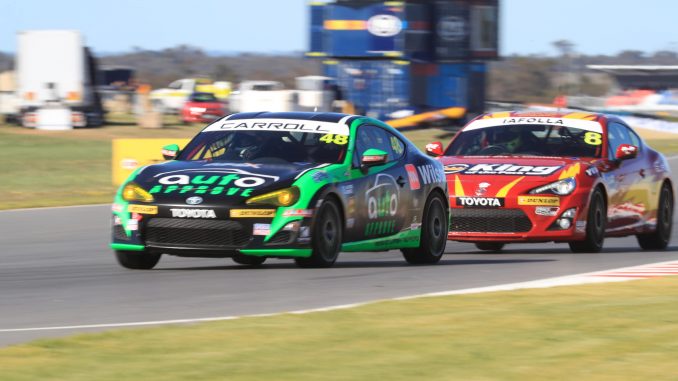 FIRST TIME 86 WINNERS WILKINS AND CARROLL ON THE PODIUM IN SA
English Bloke James Wilkins wins first race at The Bend
Nic Carroll takes the flag for second race in first podium finish
Declan Fraser sets fastest laps in both races and takes first podium
The racing action was hard and fast as the Toyota 86 Racing Series hit The Bend for its SA debut with two first-time winners in the first two races of the weekend.
Taking the chequered flag in Saturday morning's Race 7 was That English Bloke James Wilkins with young 19-year-old Victorian Nic Carroll taking out the win in Race 8.
The morning started with an intense battle as the drivers came to grips with the all-new circuit about 100km south east of Adelaide.
Liam McAdam, who dominated the season opener at Phillip Island took pole in qualifying with a lap record time of 2:15.0992 ahead of That English Bloke, James Wilkins and kiwi invited driver Chris Pither.
As Race 7 got under way, McAdam led Wilkins and Pither through the first couple of laps with Cam Walton and John Iafolla close behind before Wilkins led a charge on McAdam going into turn 14 on lap 3 and took his first leading position in the 86 series.
McAdam fought back and retook the lead and with Walton into third, the leaders went three wide into turn 3 on lap 4 – door-to door – before McAdam was pushed wide off the track slipping back well in the field allowing Pither to sneak through.
Tight battles raged throughout the field and as they crossed the finish line after 7 laps of the 4.95km circuit, Wilkins took his first podium for the season. With a time of 16:08.2455, he finished just over 1 second ahead of Pither with Cameron Crick, who had started on the grid in 8th slot climbing five positions to take third.
Rounding out the top five were Iafolla and Walton with young Queenslander Declan Fraser setting the fastest lap of 2:16.5425.
Speaking after the race, Wilkins was rapt with the result, particularly given the tight racing and the fact that he had only driven the circuit for the first time in practice on Friday.
"I had a few little moments to try and make my way around but I managed to get out of it safely and keep the lead," Wilkins said.
"I hadn't tested here, and a lot of the other competitors had, so I wasn't too sure where I would end up to be honest. But I managed to hold it and it was my first podium and it was number one, so I was pretty pleased."
Starting on pole for Race 8, Wilkins had a clear advantage but such is the tight nature of 86 racing, that after the first few turns he had slipped back to 9th spot as 19-year-old Victorian Nic Carroll led the field ahead of Iafolla with Walton in third.
By lap 3 Carroll still led and as Iafolla made a move to challenge for the lead, he suffered a mechanical problem and was forced to retire allowing Walton to move into second place.
Battling it out immediately behind were Luke van Herwaarde, Cameron Crick, Fraser – who again set the fastest lap time of race with a 2:16.9760 – 15-year-old Broc Feeney and Townsville podium placer Luke King, with Wilkins slowly moving back up through the field.
On lap 6, Fraser slipped through Crick into 3rd while van Herwaarde went wide and into the grass on turn 8 losing four spots before he got back on the track.
Into the final lap, Carroll still led comfortably before taking the win just under 1 second ahead of Cam Walton with Fraser in third, giving all three drivers their first ever podium finishes in the 86 Racing Series.
Cameron Crick finished in fourth with Wilkins rounding out the top five.
Carroll said the win was a great result having played a gamble that paid off.
"I got off to a pretty good start and took a risk by going around the outside but it paid off," he said.
"I was a little bit nervous because it's pretty easy to hit the ABS in these cars so I was a bit worried about doing that but I just tried to maintain my position so I felt pretty good out there.
"It's my best result so far so it's pretty cool to be on the top of the podium for my first category win," he said.
With all new winners, the overall standings look set for a significant shakeout after this weekend's racing that concludes when they grid up for Race 9 at noon in SA tomorrow.
Race 7 results:
1. James Wilkins
2. Chris Pither
3. Cameron Crick
Race 8 results:
1. Nic Carroll
2. Cam Walton
3. Declan Fraser
THE TOYOTA 86 RACING SERIES
The Toyota 86 Racing Series is designed to provide an entry point and training ground for up-and-coming drivers, offering a confirmed prize pool of $150,000.
Top-three place rewards for the year are $50,000, $30,000 and $15,000. The coveted Kaizen Award for continuous improvement now includes prizes valued up to $35,000 including a fully funded trip to compete in a round of New Zealand's 86 racing series. The entry fee is unchanged at $1,500 per round.
Open to variants of Toyota's cult-classic sports car, the series is part of the support program at selected rounds of the Virgin Australia Supercars Championship.
In 2018, the Toyota 86 Racing Series is being run over six events: Phillip Island 500 (April 20-22), Townsville 400 (July 6-8), The Bend Supersprint (August 24-26), Sandown 500 (September 14-16), Bathurst 1000 (October 4-7) and Newcastle 500 (November 23-25).
For regular updates and more information go to https://toyota.com.au/86/racing-series.