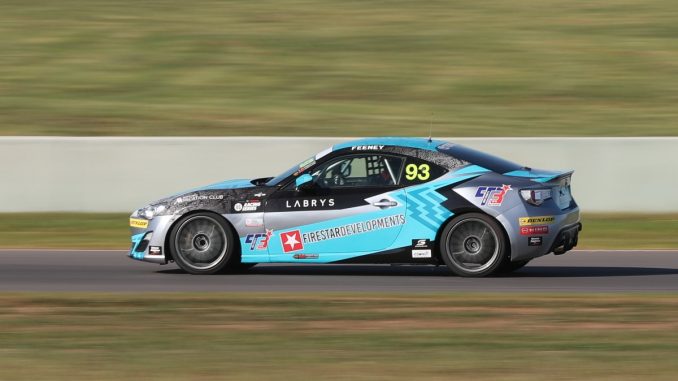 FIFTEEN YEAR OLD FEENEY TAKES FIRST WIN IN 86 RACING SERIES
Broc Feeney wins Race 9 to make three first time winners for the weekend 
Fellow Queensland teenager Declan Fraser takes second on Sunday 
Consistent Cameron Crick picks up two podiums with third 
Fifteen-year-old Broc Feeney finished off a weekend of first time winners with a sensational drive to take the chequered flag in Race 9 in the Toyota 86 Racing Series at The Bend.
Having climbed five places over the course of seven laps of the brand-new circuit in SA, Feeney took the lead on lap four and held it through to the end, crossing the finish line with a time of 16:09.4200.
After setting a fastest lap time of 2:16.9825 on lap two, Feeney streaked ahead on the final lap to win with a margin of just over one second ahead of fellow Queensland teenager Declan Fraser with Cameron Crick completing the podium positions.
"It's my first year in the series and to get a win at Tailem Bend at the new track, it's unbelievable," Feeney said.
"I need to thank all my sponsors and my family for really getting behind me. We've put in a lot of hard work and to finally get a win is great.
"Declan was putting a lot of pressure on me all the way and when I finally got that gap on those last couple of laps, I was trying to stay focussed.
"On that last lap I started tearing up, I was so emotional it was hard to hang onto everything but I slowly went through every step and it was unbelievable to cross the finish line."
Feeney had finished in 6th place in the second race on the Saturday, giving him a third row start on the grid for Sunday's race.
Consistent performances from Race 7 winner James Wilkins and Cam Walton, who crossed the line in second in Race 8, saw the two Brits round out the top five in Race 9 in 4th and 5th respectively.
First time winner of Race 8, Nic Carroll who started on pole for Sunday's Race 9 however, wasn't so lucky. After leading through the first turn ahead of Walton and Fraser, he spun out on turn two and slipped to back of the field before making up ground to finish inside the top 20 in 18th.
With three new winners and fresh faces on the podium, the leaderboard at the halfway mark of the 2018 season has undergone a reshuffle with competition tightening and gaps narrowing.
Tim Brook, who totally dominated the Townsville racing, still sits at the top with 730 points followed by Luke King in second and Crick in third but the gap has narrowed to just 56 points between the three top places.
Walton has moved up to fourth with 646 points with Jaylyn Robotham still in the top five on 588 points.
Feeney's win at The Bend has boosted him five places to sit in sixth on the series leaderboard followed by Wilkins, Jake Klein, George Gutierrez and Dylan Thomas making the top ten.
Racing for the 86 series next heads to Melbourne where all the action will be on the track at Sandown on September 14-16.
Race 9 results:
1. Broc Feeney
2. Declan Fraser
3. Cameron Crick
THE TOYOTA 86 RACING SERIES
The Toyota 86 Racing Series is designed to provide an entry point and training ground for up-and-coming drivers, offering a confirmed prize pool of $150,000.
Top-three place rewards for the year are $50,000, $30,000 and $15,000. The coveted Kaizen Award for continuous improvement now includes prizes valued up to $35,000 including a fully funded trip to compete in a round of New Zealand's 86 racing series. The entry fee is unchanged at $1,500 per round.
Open to variants of Toyota's cult-classic sports car, the series is part of the support program at selected rounds of the Virgin Australia Supercars Championship.
In 2018, the Toyota 86 Racing Series is being run over six events: Phillip Island 500 (April 20-22), Townsville 400 (July 6-8), The Bend Supersprint (August 24-26), Sandown 500 (September 14-16), Bathurst 1000 (October 4-7) and Newcastle 500 (November 23-25).
For regular updates and more information go to https://toyota.com.au/86/racing-series.