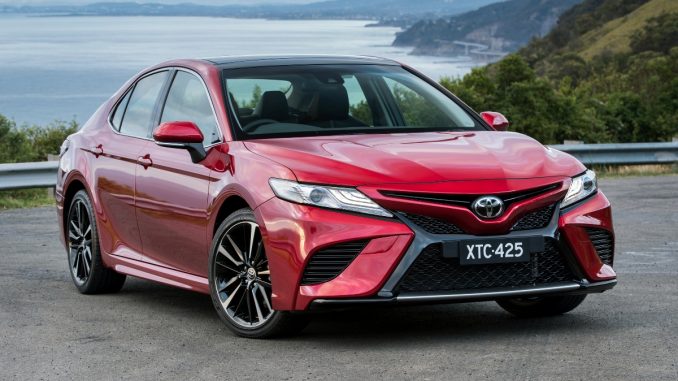 Buying a hybrid once signalled a level of smugness that could be measured in light years.
Now, cars powered at least partially by batteries are commonplace like the Toyota Camry Ascent Hybrid.
The writing is on the wall for internal combustion engines. Electric and hybrid engines are here to stay.
Hybrids seem to be the answer to a question no-one wants to ask: what will fill the gap between the internal combustion engine, and cars powered only by batteries.
Exterior
Camry comes in 4 models: Ascent, Ascent Sport, SX and SL. Hybrid offerings can be had in all be the SX.
The ascent starts at $27,690 (the hybrid starts at $29,990) which is $1,200 over the old base model, but is a snip when you consider the raft of techy goodness crammed inside.
Toyota says they no longer wanted to produce mind numbing, ugly-but-reliable boxes. It is better to polarise then blend in to a background of boring beigeness.
Camry's heavily sculptured front and rear ends are joined together by a slightly more conventional side profile. Its bonnet has been lowered by 40mm but is still a big impressive chunk of car.
A gaping 2-piece grille is disguised by the clever use of panels, lines, and covers that give deep shades and plays of light. In fact there seem to be a load of bit gouged out just for the sake of it.
On the subject of light, exterior lighting is uber-bright LEDs.
17" wheels are standard, with the SX getting larger 19" wheels, and the top model having 18" wheels. It's unusual for the top grade to have smaller wheels than the one below it, but a higher profile tyre gets better ride.
People make a complete meal of having huge wheels, and are happy to have the ride of a BBQ being rolled down a country lane.
Interior
Much of the cabin is standard for a car in the late 2nd decade of the 21st century.
Flashes of design daringness can be had in the centre console. The asymmetric centre stack puts the 7" LCD in pride of place.
You get a flashier 8-incher in all other models. It looks odd to me though – I like things neat and tidy. This looks a little like it was mocked up after a boozy lunch.
There is a plethora of cup holders and nifty hidey holes with everything being easily accessible, including the USB ports.
There is nothing worse than the ports being shoved in as an after-though.
You have to croon your neck to be able to see them, and be double jointed to use them. This however, is not.
There is still no Apple CarPlay, but Toyota says it is coming, but then so is Christmas.
The neat LCD display is flanked either side by large, friendly buttons clearly labelled with that familiar Toyota font.
There is the faint whiff of 1990 Lexus about them though.
Annoyingly, there is no navigation at the bottom of the range. You'll just have to make do with your phone.
Seating in our base model Ascent is comfortable and upholstery has a utilitarian feel to it.
Toyota has finally done away with sticking the cruise controls on a stalk behind the steering wheel. The buttons now live on steering wheel like normal people would expect. It is so much easier to use.
Buttons are back-lit for a pretty night-time display.
Rear seats fold down in a 60/40 split making the cargo area enormous. Old Hybrids missed out on the fold-down convenience.
Features
Urethane gear shifter
Fabric seat trim
Urethane steering wheel with audio, phone and MID controls
2″ multi-information display (MID)
Toyota link
7″ display screen
Electronic parking brake
Manual air-conditioning
Driver's seat power lumbar adjustment
Drive and Engine
Hybrids are absolutely the business in town, even with that petrol engine running.
We managed around 5L/100km. No, seriously! With a 50 litre tank, fewer stops at that dreaded money pit will be required.
Think of it this way, most people do between 5,000 and 10,000km a year right?
That means you'll only visit a petrol station 5 to 10 times a year.
Let that sink in for a bit.
Camry switches between modes as you drive without you being aware of it. Electric-only driving is almost completely silent too.
At other times, the computer will use the petrol and electric motors to either drive the wheels and/or charge the batteries.
There is a diagram to show you what is going on under that bonnet and is hours of fun. You soon find yourself trying to keep it in either charging, or EV mode, as a sport.
Charging also happens when coasting even if at 110 km/h.
The spooky cabin is quiet even when the petrol engine springs to life.
You waft along blissfully unaware of just how little fuel you're using. I say waft, because the ride is positively limo-like.
Only the most hideously rutted roads disturb your quiet contemplations.
Steering is light, possibly too light. There is a sport mode to makes things a little more interesting but there seems little point in bothering.
Camry hybrid is one of the few cars I'd leave in either normal or ECO modes. Although performance is dialled up a notch when sport is selected, a quieter, calmer, more sedate drive is far more rewarding.
I was surprised at how good the audio system was. There are a few apps, and something mysterious that Toyota says mirrors your phone on the screen. I couldn't get it to work.
All models have auto lights with auto high beam. You don't realise how handy that is until you use it for the first time. As you hurtle towards oncoming traffic, the Toyota politely dips the beam.
It doesn't always get it right, but it's nice that it tries.
Safety
Pre-Collision Safety System
Autonomous Emergency Braking
Lane Departure Alert with steering assist
Auto High Beam
All-Speed Cruise Control
7 Airbags
Brake Assist and Brake Hold
Reversing camera
Good Bits
Economical range anxiety
Good equipment level
Excellent ride
Not So Good Bits
Some hard plastics
Steering slightly too light
Summary
You get an awful lot of car for your money. Camry Hybrid is much better value than the smaller, and somewhat hideous Prius. It's cheaper too.
Camry looks and feels like any other run-of-the-mill car to drive. You don't have to make silly charging runs to power points a million miles from home.
Even being gouged by fuel companies is less painful.
Gliding silently through underground carparks takes on an ethereal feel too. It's fun watching the faces of passers-by.
The driver is spoiled for choice when it comes to aids and the top models have even more gear.
It seems Toyota has lived up to its promise of no longer making washing machines on wheels.
Facts and Figures: 2018 Toyota Camry Ascent Hybrid
Engine: 2.5L four-cylinder hybrid producing 160kW
Transmission: CVT
Warranty: 3/ 100,000km
Safety: Five stars
Origin: Japan
Price: from $29,990