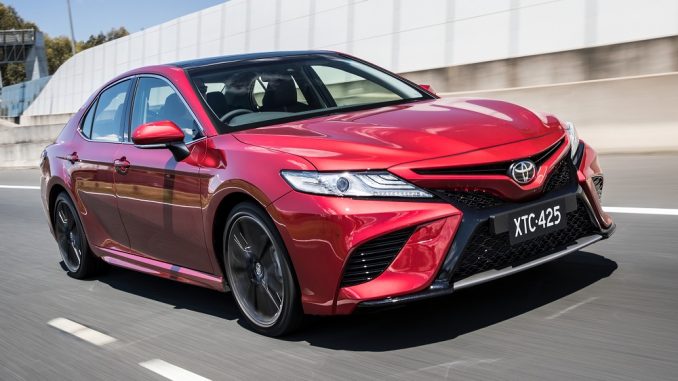 The Toyota Camry has long been a non-offensive model, it has also been a phenomenally successful vehicle.
Australia's best-selling mid-size passenger car for more than 20 years, the new-generation Camry was launched into Australia in Coffs Harbour yesterday.
External
I really like the new Toyota Camry styling, particularly from the rear – this is unquestionably the best looking Camry yet.
Internal
This is where the new global Toyota platform that the new Camry sits on benefits the offering the most.
The new-generation Camry welcomes larger proportions, while also sitting a little lower to the ground, and this equates to a larger interior.
I was particularly impressed by the amount of legroom in the back (even with the front seats right back), as well as an over feeling of openness and space.
Take note though, if you opt for a model with a sunroof (and its a very big one in the new Camry) you will forgo some head space – an issue you will likely only notice if you're on the tall side.
Cabin storage areas are very well-sized, particularly the centre console bin and the glove box, but not so much the in-door areas.
There's also a good-sized boot, that even applies to the hybrid version now as it sees the battery pack shifted to beneath the rear seat.
Easy to read gauges, a nice seating/driving position, very good sound absorption, and slim and easy to see around A pillars are some of the other positives.
Features
Toyota has resisted the urge to get too sexy with the Camry buttons and controls.
I'm particularly pleased to see that Toyota didn't do away with the physical control buttons around the infotainment screen (some of Toyota models have smooth surface type controls which I don't like).
I'm taking marks off the Camry seat bases, these, to me, feel too short and lack under thigh support (for taller people) and the lack of Apple CarPlay/Android Auto availability seems bizarre (albeit the standard infotainment system is reasonable-enough).
Drive and Engine
But what's the new model like to drive and ride in? Overall, quite pleasing.
I only managed to get time behind the wheel of the four-cylinder version and my initial thoughts are that, again, the 2.5 litre engine provides adequate acceleration and power for most Camry-type applications – i.e. cruising along the highway and around town.
It does get a touch unsettled and a little noisy when driven hard, but that's not what the Camry was built for.
The V6 version however, now once again sold under the Camry name rather than Aurion, looks by far the more sporty and exciting option with a meaty 224kW on tap!
The V6 also gets an additional two ratios in the auto transmission – eight instead of the four-cylinder's six.
And of course the hybrid, now with better fuel economy and more power, is a certainty to be the pick of Australia's taxi fleets over the next few years.
In the bends, well the Camry has never been, and perhaps never will be, a car that can be described as like being on rails.
The new one tends to understeer a fair bit, but to get to that point requires harder driving than what most Camry owners will ever do.
What you're probably much more interested in hearing about is how the Camry rides, the answer to that is "very well".
Nice enough steering helps to round out a package that does everything to an acceptable level.
Safety
Toyota's new Camry gets a full five-star ANCAP safety rating.
Good Bits
New improved interior
Attractive styling
Inclusion of AEB
Pleasing drive
Not So Good
No Apple CarPlay or Android Auto
Lack of support in seat bases
Facts and Figures: 2018 Toyota Camry
Engines: 2.5 litre four-cylinder 133kW/231Nm, 3.5 litre V6 224kW/362Nm, 160kW hybrid
Transmissions: Six-speed auto (four-cylinder), Eight-speed auto (V6), CVT auto
Safety: Five stars
Warranty: 3yrs/100,000km
Origin: Japan
Price: from $27,690
2018 Toyota Camry Rating
Summary
The new-generation model, fully imported from Japan, is a better car than the one it replaces and I see absolutely no reason to suggest that it will give up any ground to its rivals in the mid-size passenger car segment.
The addition of autonomous emergency braking across the range is also a major plus.
I look forward to driving and reviewing the V6 and hybrid versions soon.